Forging ahead, Marc, Dale, Carol Lee, and Laura in attendance.
Carol Lee has finished two sunflowers: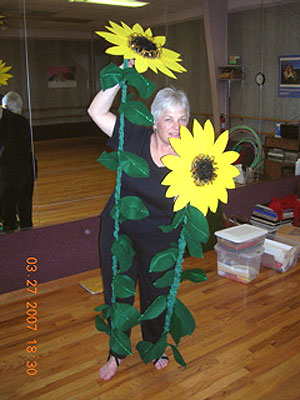 They are quite magnificent. We began to see a lot of possibilities now for choreography. Dale suggested that we keep in mind the Silly Symphony cartoons, with their simple and repetitive patterns. They're a lot of fun to play with, and very easy to make into characters.
Dale reported on his adventures in Hedgehog Land: he worked with Sherry Lambert's kindergarteners again on the MMH Arrives sequence, and they're getting quite good at it. He then tested them on some ideas he had for the Marmalade Man Makes a Dance to Mend Us, where he asked them to strike hedgehog poses on the beat. Then they played follow-the-leader, taking a step and striking a pose on the beat. It worked, so we'll actually be able to stage both MMH pieces! He also sent letters home to the parents so they could decide whether their hedgehog would be able to participate in the May 3 performance.
Then we forced ourselves to get to work on visuals for Sun & Moon Circus [SMC].
Marc continued his study of the circular bed, the Gang in pyjamas, King of Cats as ringmaster: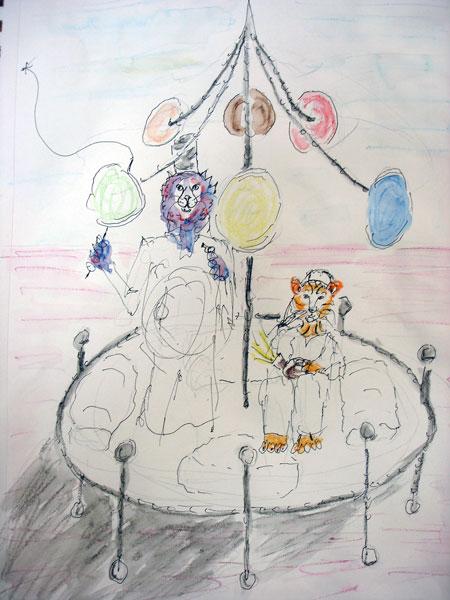 That's a magic lantern the Tiger is holding, projecting moons/stars/suns onto the circus action around them.
Carol Lee grumbled about being a three-dimensional artist (i.e., hot glue) being forced to work in a two-dimensional framework, but she approximated successively nonetheless: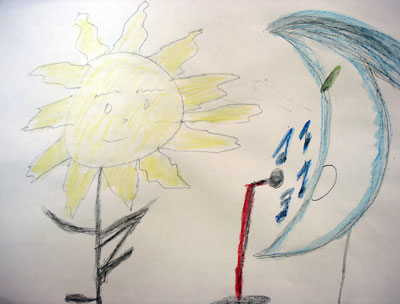 Here she has the sunflowers listening to the Moon's lounge act. Looking at this idea, it occurs to Dale that we can actually write in a vocal part for the Moon in the circus sequence, sort of a Cirque du Soleil descant thingie.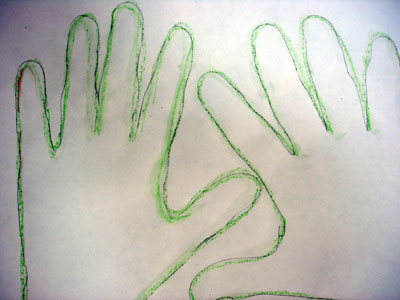 A simple image, for creatures clapping. We probably could come up with a few more, paws and fangs, to add to the mix.
After working with paint last week, Dale went digital this week, using a program called ArtRage. It's very gorgeous, and it comes in a free version for both Mac and that other platform, from Ambient Design. There's also a $19.95 version that has layers, worth it if you can afford it.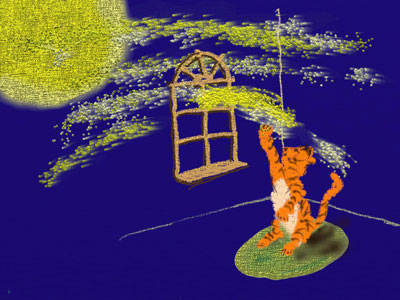 Here the tiger is awakened by fitful, flashing light, streaming through his window. He has managed to get his paws on a bit of it.
We do not have workshop next week, April 3, because it's spring break and Dale and Marc and Carol Lee will be in New York City. In fact, by this time next week, we will already have had lunch with Nancy Willard!