Is it only day two?
After breakfast at an establishment I will not name because it was amazingly lackluster, we headed to the first planned event of the day: a couples "romantic retreat" at the hotel's spa. The spa itself was luxe, and the massage was welcome.
We headed out for lunch, but when we walked out of the hotel all of Fifth Ave was blocked off for a street fair.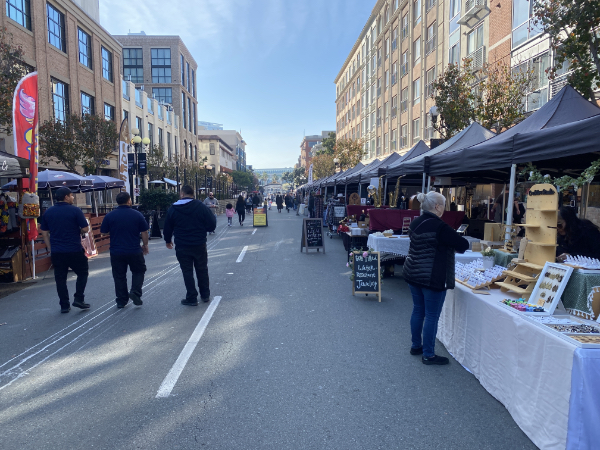 Well, of course we had to shop. Earrings were bought. Lovely wooden sunglasses were bought.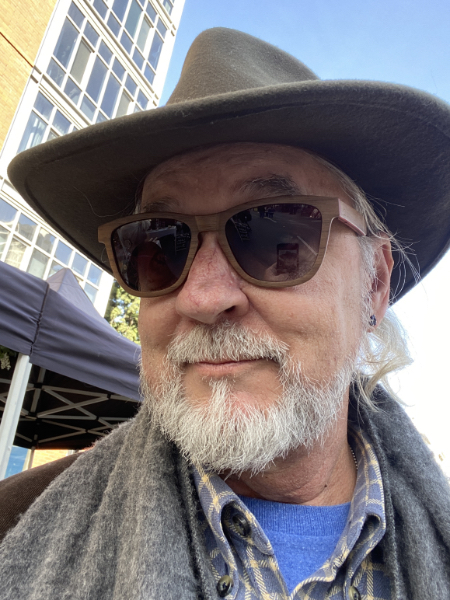 I'll try not to break these.
Next up, the hop-on-hop-off trolley that seems to infect major tourist cities. It took a while for us to connect: there's the commercial trolley, and then there are multiple city-run trolleys, and when we checked at the front desk to find out where the trolley stop was, we decided we weren't sure which one we had hooked up with.
So that took a while to sort out, and then we had to wait for a trolley, and that one was full, and we had to wait for the next one, and then we rode all around San Diego — downtown, Coronado Island, Little Italy, Old Town — which gave us a great overview for when we return next year. Because it was at the end of the trolley run's day, we didn't hop off, just stuck with it until we were deposited back at our stop.
You may not know this about me, but I have an irrational fear of heights over water. Heights? No problem; I can scamper out onto the promontories of Grand Canyon without missing a heartbeat. Water's not a problem. But a tall bridge over water? I can't breathe.
So you will appreciate the strength of will it took to take this photo: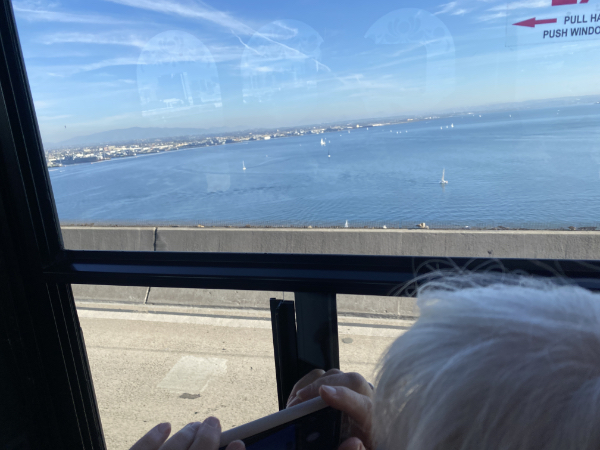 I think that's the Pacific Fleet. I couldn't really pay attention.
Before the trolley, we had spent some time figuring out what to do for dinner. Pack Up & Go had booked us at a very nice (and very expensive) steak place that everyone raved about, but we were not in the mood for very expensive steaks, so eventually we opted just to go to the bar downstairs and have barfood with cocktails.
Our new best friend Cody was there. He made me a Bijou with barrel-aged gin, and then I asked him to make me something he had been working on for the menu. He lit up and presented me with a delicious drink, unnamed, containing tequila (San Diego is keen on tequila), Amaro Montenegro, and the secret ingredient of coconut — which I generally do not care for, but this drink was lovely.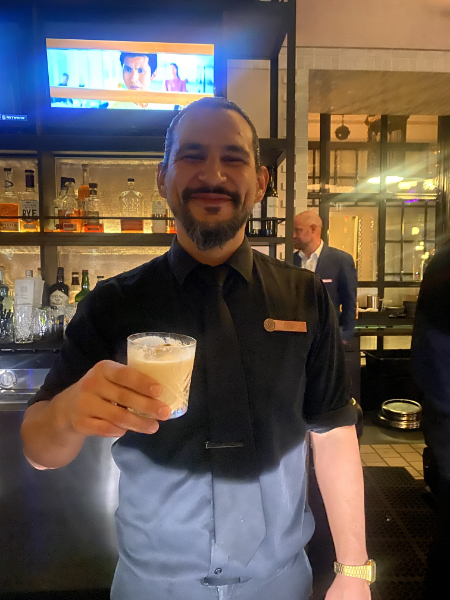 SIDENOTE: You may recall that in the Bright Angel Lounge at Grand Canyon, we were treated to some ridiculous sportsball simulacra on the bar TVs. This time it was spikeball, and all I could think was, somewhere there are a couple of dudes who didn't finish their degrees. Finally someone won that competition and ESPN switched over — and think about this carefully — the National Cornhole Championship JUNIOR, where definitely unathletic-looking young teens named Nick and Zackary and Noah tossed beanbags with fierce concentration.
We had no firm plans for the rest of the evening. The trolley driver had pointed out a dueling piano bar near us, but the Lovely First Wife was not in the mood, so we just strolled up Fifth Ave. The place was hopping with partying young persons, as is right and proper.
Then I saw these two windows that were alive with what appeared to be computer-generated lights floating about — and then it dawned on me that they were responding to us, the passersby. We had discovered the WNDR museum.
The first thing we thought of was that it was a kind of Meow Wolf, but it's not quite. Meow Wolf is an immersive experience done by teams of largely anonymous artists. WNDR is an actual museum of individual artists' work, mostly computer-visuals and mostly interactive.
For example, here's a video of us experiencing two of the pieces, the entrance hall and Quantum Mirror (by Adrian Stein).
Right?
One exhibit allowed you to type in AI prompts, and five screens then displayed the results. When we walked in, the work on display was "Bob Ross boxing."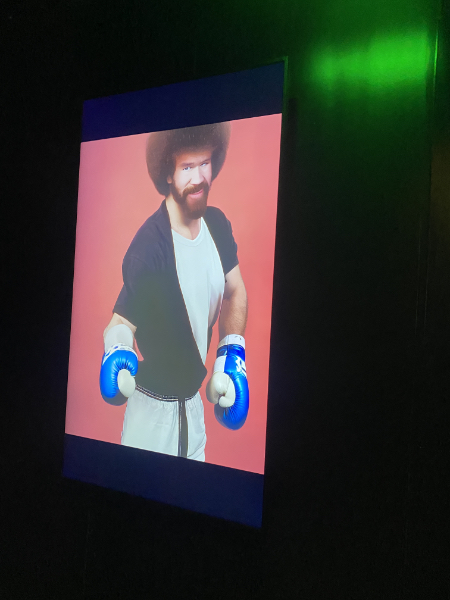 I gave it the prompt "Yoda at Burning Man," and the results were a bit lackluster.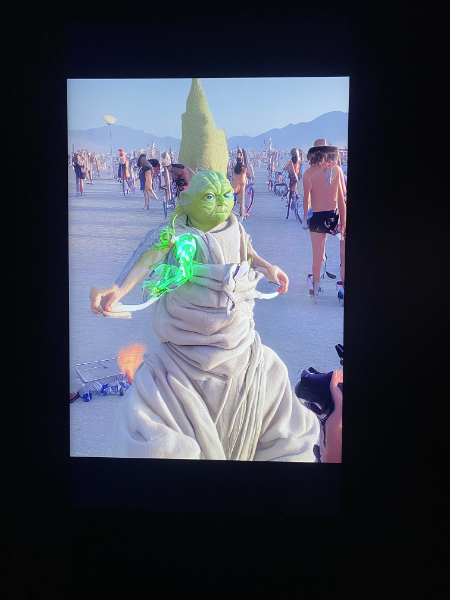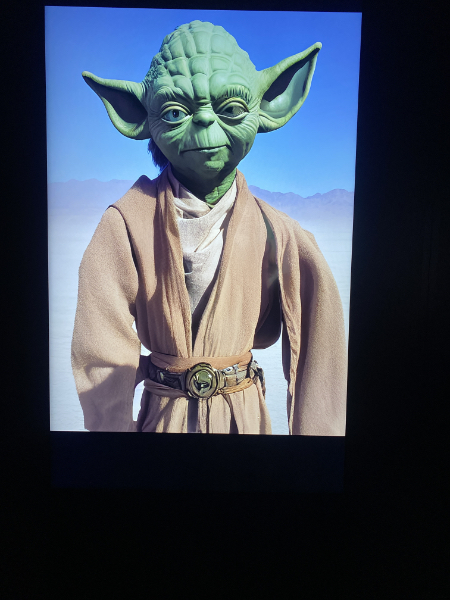 Still, A for effort.
Another favorite was Inside Out, by Studio Leigh Sachwitz. From the website's description: "An immersive 360° video, light, and sound experience based on childhood memories of artist Leigh Sachwitz, who often experienced thunderstorms in a Glasgow garden shed. Leigh was inspired by those moments in Scottish weather where even phases of rain and sunshine can be experienced together within 20 minutes."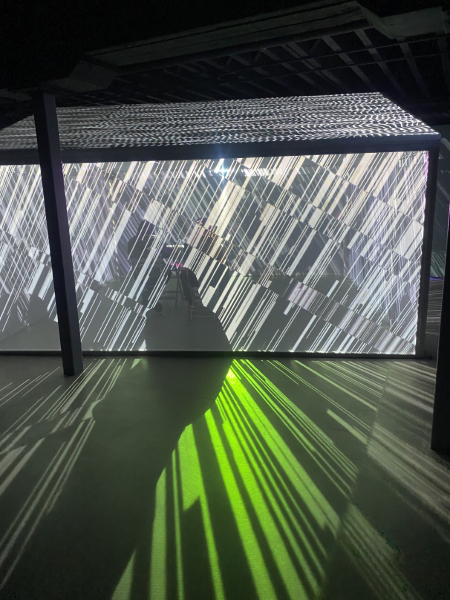 Up to four people could sit in the garden chair inside the shed during the light/sound show. There was a line to get in, but the experience was just as lovely from the outside as it was inside. I particularly liked the ending sequence, where the stark black-and-white geometric patterns gave way to dawn-like colors that gently spread and faded.
One simple exhibit — the name of which I did not record and the website does not have, was a spare room with some designs on the wall and a small pattern on the floor that clearly invited you to stand on. The wall had a prominent light switch: ON/OFF. This is what happened when you flipped the switch: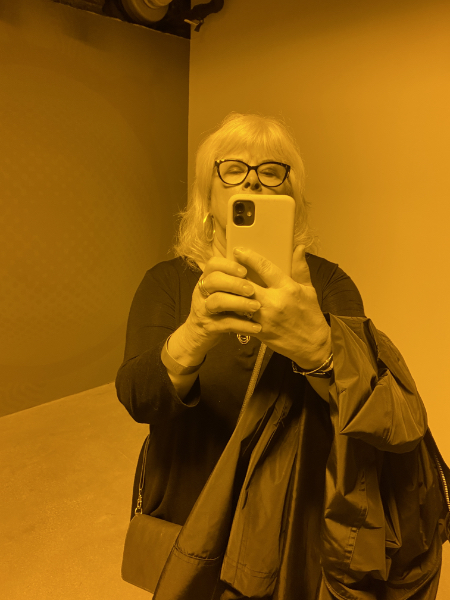 This photo is not filtered. We were suddenly in a black-and-white/sepia-toned universe.
There was a lot more of course, but that's the gist of it. Fun place, highly recommended.
After that, we stopped by the creperie for a late meal, and then to bed.