Bear with me — I am unused to writing fanfic.
A little while ago, during The Decoratoring™, I had a holiday Pandora station playing because I am a good husband like that, and at some point I apparently snapped because I suddenly started singing along to "Chestnuts Roasting on an Open Fire" — in the voice of Gru, from Despicable Me.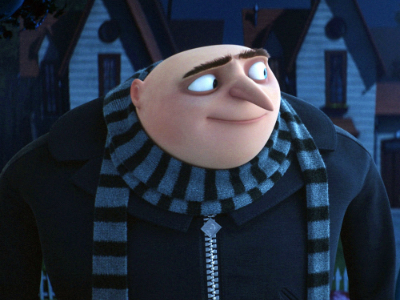 It made sense at the time.
Suddenly I thought how wonderful it would be to release a holiday album of Gru singing Christmas classics. Imagine it — I know you're smiling right now just thinking of it.
And then I thought, we could probably get Steve Carrell and Julie Andrews to pull together something like this for charity. THE MINIONS SINGING THE CHIPMUNK SONG, YOU GUYS! Turn turn kick turn, YES, IT WILL WORK!
But what charity, you ask? I thought about leaving that to our artists, but the problem of homelessness weighs on my mind a lot, so let's make it contributions to organizations that are working to end or at least reduce our houseless population.
Then it hit me: A MINIONS HOLIDAY SPECIAL that ties into the charity fundraising CD.
You can see where this is going, and so here you go, a half-baked treatment for The Minions Do Christmas: Homeless for the Holidays. (We can negotiate the title.)
---
[SCENE: GRU'S HOUSE, CHRISTMAS EVE.]
Chaos: the GIRLS [MARGO, EDITH, and AGNES] are hyper, squealing, writing enormous wish lists, play-acting the toys they hope to get, etc. GRU waits patiently, gleefully, to fulfill their wishes.
GRU'S MOM[1] is grumpy. "You're spoiling these girls. When I was little girl, I was lucky to get turnip for Christmas."
GRU: "Yes, yes, we know, but things are different now. Look how happy they are." The girls are oblivious and clearly adore MOM (and she them, though she tries to conceal it — can't spoil them, with love and all that business, you know).
The GIRLS finally finish their lists and hand them over. GRU distributes the lists to the MINIONS to buy everything, but AGNES's list is too long, so he tears it in half and takes half for himself.
GRU forces his MOM to go with him to buy all the toys, leaving the GIRLS to decorate the house with NEFARIOUS.
(As GRU and MOM drive through the streets, we see in the background, among the holiday hustle & bustle, homeless families.)
As GRU's car fills with packages, MOM gets testier and testier until she finally pitches a fit and leaves the car. GRU, in a snit, drives off, figuring either he'll come back to get her later or she'll get a cab and come home by herself.
In a rage, MOM flings her purse to the ground/street, where it is promptly run over by a bus and destroyed, so she's without ID or money. She begins to walk.
Meanwhile, MINION shenanigans as they shop, maybe some GIRL antics as they decorate. (It is important to note that because of the GIRLS' varied personalities and interests, the MINIONS are loading up on all kinds of toys, not just "girl" toys.)
GRU pulls into his driveway, goes in, discovers MOM is missing. The GIRLS panic, but GRU tries to remain calm. They pile into the car to go look for her.
MOM is becoming disoriented, not sure which way is the way home. Her confusion is noted by a boy who asks if he can help her. She grumpily replies that she's not even sure if she has a home (or words to that effect). He interprets her dilemma as one of houselessness, so he tells her to come with him — he takes her to the homeless shelter where he lives with his mother. It begins to snow.
The homeless shelter is clean and well-lit, but it is filled with families with children who have nowhere else to go. MOM is nonplussed, but she is polite enough with the people whom she meets and is soon enjoying interacting with the children there.
GRU radios the MINIONS to let them know of the problem and in true MINION fashion they swing into berserk helpful mode. Hilarity ensues.
Back at the shelter, one of the workers approaches MOM and asks if there's anyone they should call. Sure, she says, and scribbles down GRU's home phone number. She goes back to enjoying herself.
NEFARIOUS, home alone, is working on a MOM Tracking Device (with a helpful MINION of course who finds himself tagged in hilariously uncomfortable ways). The phone rings, he answers it and learns that MOM is at the shelter. He springs into full alert and radios GRU and the MINIONS.
General screeching of tires and traffic shenanigans, until GRU and the GIRLS pull up at the shelter and dash inside, where they discover MOM safe and sound and having a good time with her new friends. They are introduced, and it slowly dawns on them where they are and who these people are.
EDITH and MARGO come up to GRU, distressed: None of these kids are going to have any Christmas. GRU is likewise upset [and maybe something happens here…]
Suddenly the MINIONS burst into the shelter, squealing and bringing all the presents they've spent the day shopping for. GRU and the GIRLS and MOM all look at each other and make the unspoken decision. They turn to the families and shout, MERRY CHRISTMAS!
Party time as the children receive gifts from the MINIONS and unwrap them. Pizza is delivered (we see GRU paying for it). Merriment abounds.
Segue into the low energy of a party winding down. One of the MINIONS begins to sing "Silent Night," and soon he is joined by MOM. A chorus of MINIONS takes over as she goes to GRU and tells him she is proud of him, etc.
AGNES and the GIRLS come over to GRU. AGNES tells GRU she wants to go home.
Home.
They all realize what that means in this context. They all are trying to think of a way to help, but MARGO quietly says, "There's nothing we can really do, is there?"
GRU is forced to admit that they cannot solve the problem themselves. EDITH is angry; there must be something they can DO!
Wait, GRU says slowly, I think I may have an idea…
[CUT TO LIVE ACTION STEVE CARRELL, JULIE ANDREWS, maybe some animated MINIONS]
They make a pitch for homeless action groups [TBD] and promote the CD as a means for the audience to contribute to these groups…
[BACK TO ANIMATION]
GRU, MOM, and GIRLS are walking in the front door of home, to the unfinished decorations. NEFARIOUS greets them with hot chocolate, and they decorate the tree together. GRU is suddenly stricken that he has given away all the GIRLS' Christmas presents, but they tell him they've already had Christmas.
Not to worry, though, KEVIN comes in with three presents, one for each of the GIRLS, and they declare them the best Christmas they've ever had.
Swell gemütlichkeit, begin to roll credits. NEFARIOUS tells MOM he has a way to keep her from getting lost again, if she will just step over here out of camera range — we hear the distinctive thnk of the tagging machine and her scream.
FINIS
—————
[1] That's her name. Even after three movies, GRU'S MOM's official name is GRU'S MOM.