Last spring, as I played with the Savoy Cocktail variations, I used the Savoy's Fernet Branca Cocktail as the starting point. It's simple recipe: 1.5 oz gin, .75 oz each of Fernet Branca and sweet vermouth.
It was, as I expected, not at all to my taste, but it spawned a whole new zone of experimentation, which I am calling the Grand Unified Vecchio Cocktail Theory, in which you use the proportions of the recipe for the Fernet Branca cocktail and substitute another amaro.
Here's where it got interesting:
Gin— Even if we ignore the subtle differences in different brands of gin, differences that I am too lazy to learn to distinguish with any refinement, we still have the different types of gin that we can play with:
London dry gin
old tom gin
Genever
botanical gin
barrel-aged gin
These different types involve dryness/sweetness, more or less juniper, added flavorings. Within those categories, of course, are scads of different brands of gin, of which I have about 30.
Sweet vermouth— Lots of these available, but I decided on three:
Carpano Antica
Cocchi di Torino
Punt e Mes
Again, the differences are in the herbals used.
Amari— Where do we begin? Whole books have been written about this category of herbal distillations. Suffice it to say that I have more than two dozen amari and have barely scratched the surface.
If we do the math, we have 5 [kinds] of gin x 3 vermouths x ≈24 amari, which gives us 360 possible combinations. The gin-loving soul thrills to the very idea.
I've had a blast testing out my Grand Unified Vecchio Cocktail Hypothesis [GUVCH], and the results are very promising. Here's my most recent one.
Salers Cocktail
Salers is an aperitif, gentian-based, bitter and vegetal, with some citrus notes. I bought it recently because it was mentioned in a couple of recipes, and I decided to plug it into the GUVCH. The results were quite pleasing.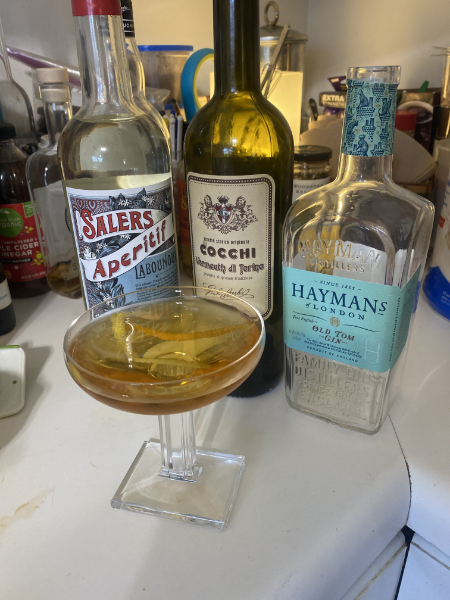 Salers is unusual for the GUVCH since it is a clear aperitif, while most amari that I have are darker.
1.5 oz gin, in this case an Old Tom gin
.75 oz Cocchi di Torino vermouth
.75 oz Salers Aperitif
Stir with ice, strain into a coupe. Garnish with lemon zest.
It is light and refreshing. You'll want more than one.