For those who are just joining us, I have not had a haircut since Jan 2020 because of THE PANDEMIC, KENNETH, and it doesn't look as if I'm going to be able to get one any time soon, either. Yes, I know the salons are open, and I see guys every day who clearly have had their locks shorn professionally, but it should come as no surprise to anyone who knows me that I'm going to be stubborn about this.
I last updated you five months ago, and since then I have moved past hairbands into hair ties, starting with a couple that my Lovely First Wife loaned me and then moving into actual boy hair ties, you guys. I came across the Longhairs last month, and I fell for their charming shtick and their cool products, plus their support of Children with Hair Loss. (I don't think my hair will get that long, and I'm not sure how many kids want distinguished salt & pepper tresses.) Cool guys.
Here I was last month, with a hair tie.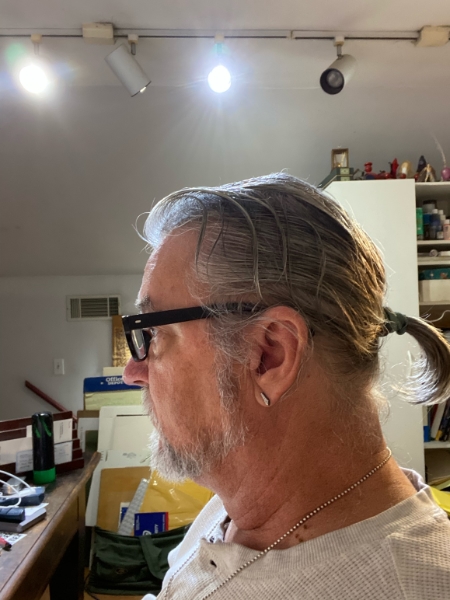 And here I am yesterday, with my now-leonine dishevelment.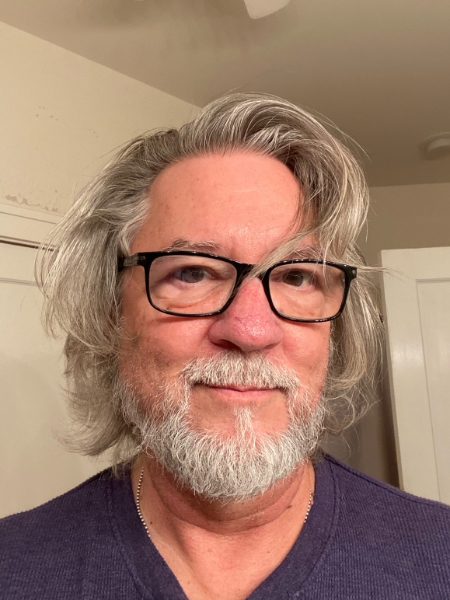 I have to say that this is pretty rakish. I like it. Took me eleven months to get here, but now it's good.
Pro tip: last month a random encounter with another couple whose male half was also disheveling led me to the use of simple pomade to help control the hair and make it more styled. I bought two pomades to try, one with medium hold/matte finish and the other with light hold/sheen finish. Both work.
And as rakish as I look in selfies, the hair still bothers me if I have work in the labyrinth to do or supper to cook; on goes the hairband. And I have taken to wearing one of the Longhairs hair ties on my wrist like a bracelet so that I can whip that distinguished mane back into a ponytail if necessary.
Because I'm now one of those guys.