I have noted before that I have refrained from blogging a lot about the Current Administration because it would not be good for my mental or physical health. However, the recent debacle in the Rose Garden (CEO: "We're here for you, America, and we hope to have more toilet paper and hand sanitizer available for you to BUY soon") had a tiny detail that I haven't seen any of the better political writers examine, so here we go.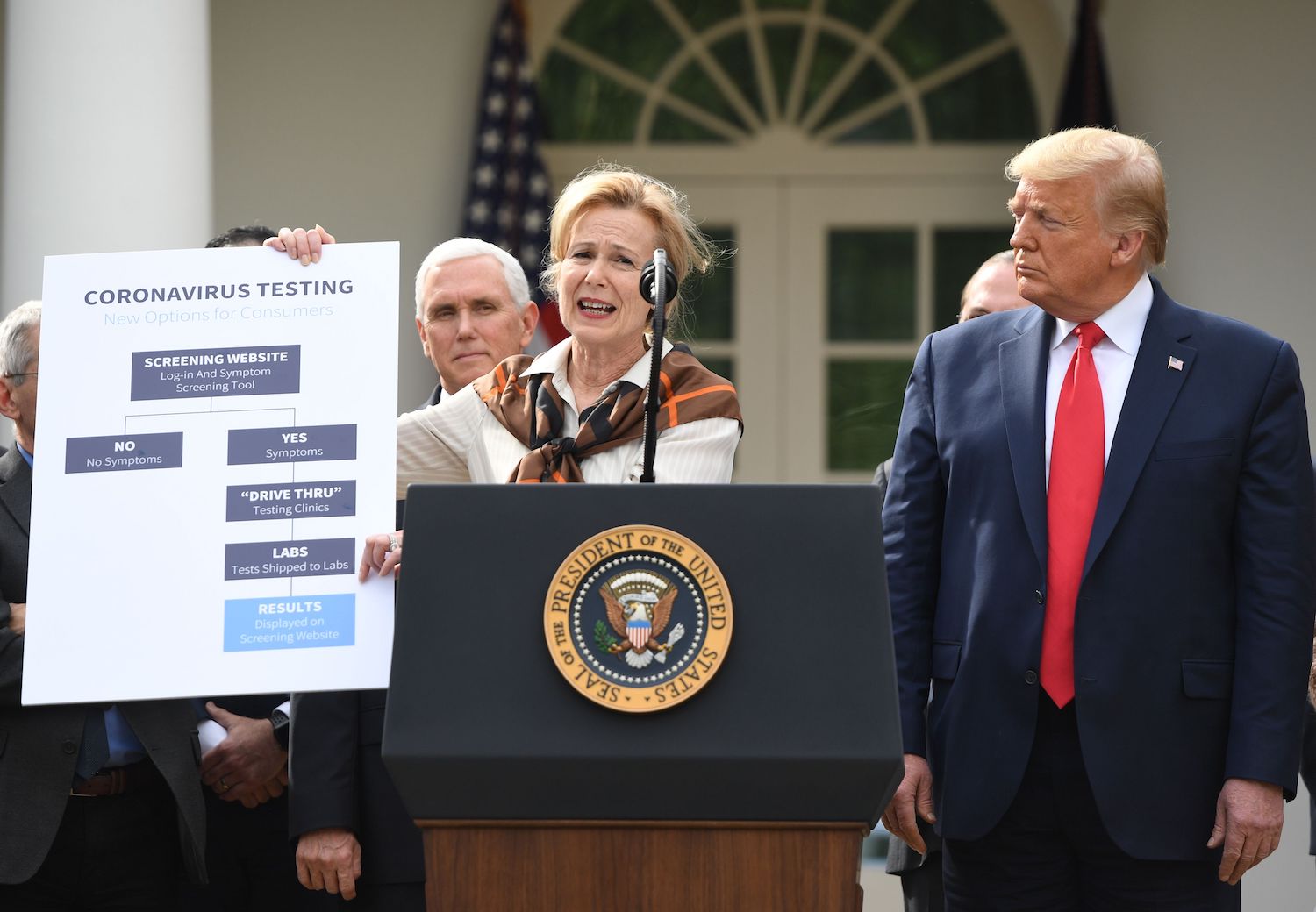 First of all, notice the light blue subtitle: New Options for Consumers.
Consumers.
Not citizens, not Americans, not "everyone." Not even just plain "New Options."
Consumers.
I like to think that the poor graphic designer charged with producing this thing deliberately made that subhead almost unreadable, because how fupping embarrassing is that? Consumers.[1]
Second of all, as it happens, there is no screening website. The president (who is impeached) made that up.
But none of that is what I realized yesterday: Despite what the poster says, THERE ARE NO OPTIONS ON THAT CHART. None.
Go ahead, start at the top of the chart and see what options you have to help keep yourself and your monkey circle safe. For example, what if you are asymptomatic but are pretty sure you've been exposed to the virus because you've worked with someone who is exhibiting symptoms but who has not been tested LIKE THE CHART SAYS BECAUSE THERE ARE NO TESTS, KENNETH? Because that's exactly where I am. What options are offered to me in that chart?
Dr. Deborah L. Birx, the White House's coronavirus response coordinator, stood in front of the American people consumers and held up a poster that is nothing but pretty boxes and lies.
Unfortunately, that's no more than what we can expect from this administration.
—————
[1] Of course, that's actually the standard Republican view of citizens anyway: we are merely consumers of the Great Capitalist Beneficent Free Hand. We exist to boost profits.