The flight to Phoenix was uneventful—my Lovely First Wife booked us first class seats! She was a little miffed when I dashed to the restroom before boarding, since it meant we were among the last of first class to board, and the whole point was to be one of those smug bastards already seated in our leg-roomy seats while the peasants file grimly past. I assured her there were plenty of peasants still to board.
Phoenix is a lovely little airport, not hard to negotiate. We got our rental car and headed north to Flagstaff.
Flagstaff is much as we left it a couple of years ago, with the Hotel Monte Vista right where we left it.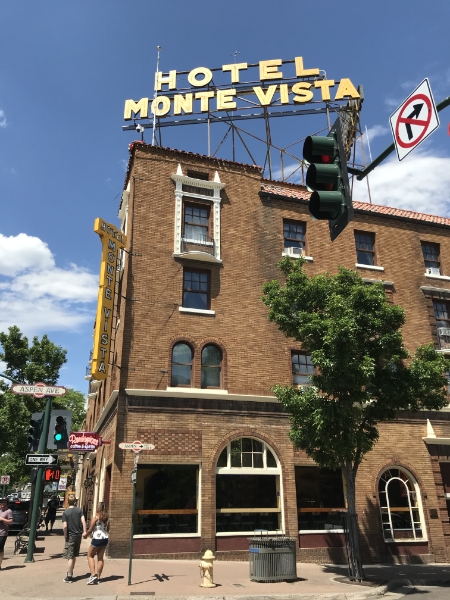 We ate at Bun Huggers, a burger place I knew about only because when I dropped my cello off for inspection at Vinylite downtown on Thursday, one of the guys there said he had lived in Flagstaff and helped build it. (The Newnan Vortex™ strikes again.) The burgers were good. We recommend it.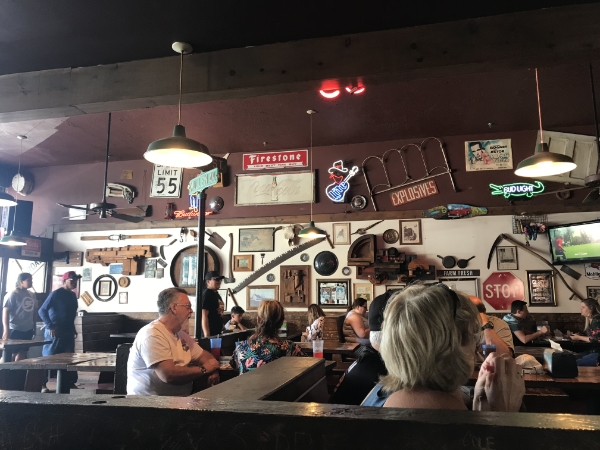 Of course we went shopping: we bought chains for the silver pendants I made at Backstreet and a couple of books. All our favorite shops were still there, and I was sore pressed not to buy more sound makers from the shop full of singing bowls and things.
I loved this idea: the city has recycling…
…but look how they label the trash side: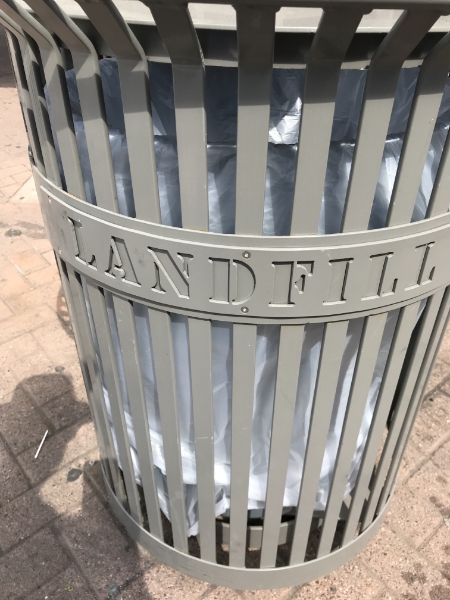 You are committing to putting more stuff in the landfill. That's a commitment none of us think about, is it?
The drive to the Canyon from Flagstaff is lovely, of course.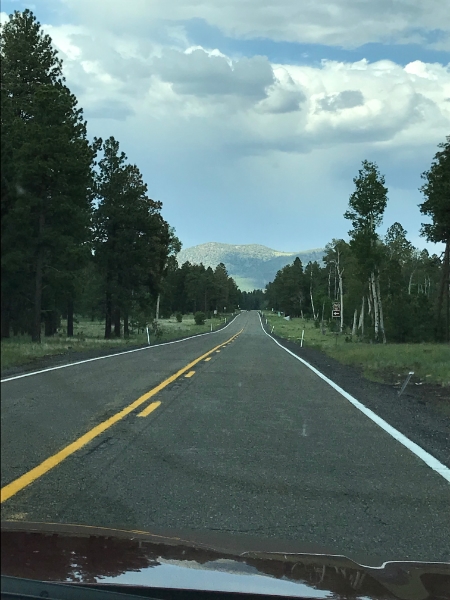 We passed on through Tusuyan, where we usually stay, and sailed through the park gate: lifelong Senior passes are the bomb. Once inside, we were almost immediately stopped by an ELKJAM!
These four were insouciant punk youngsters who were completely unconcerned that a) they were stopping traffic as they munched on grass next to the road; and b) they had their own crossing guard (a volunteer in a neon vest, whose picture we failed to get).
We checked in at the Bright Angel Lodge.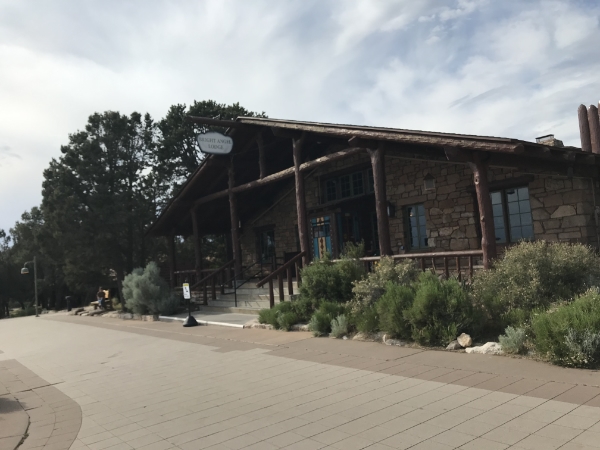 We lucked out and found a parking spot near our cabin, and as soon as I got out of the car, there it was, you guys.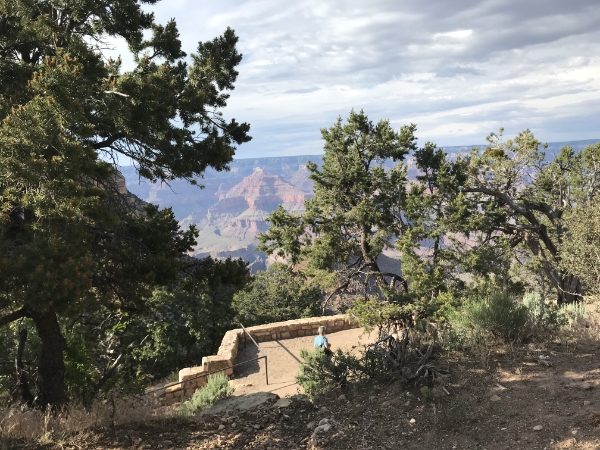 My Lovely First Wife turned around, and I was gone. I had to go over to the rim. The effect is immediate: the sense of awe overwhelms you—you breathe more deeply—the immense complexity of the view has you in its grip.
We found our cabin, Cabin 6170.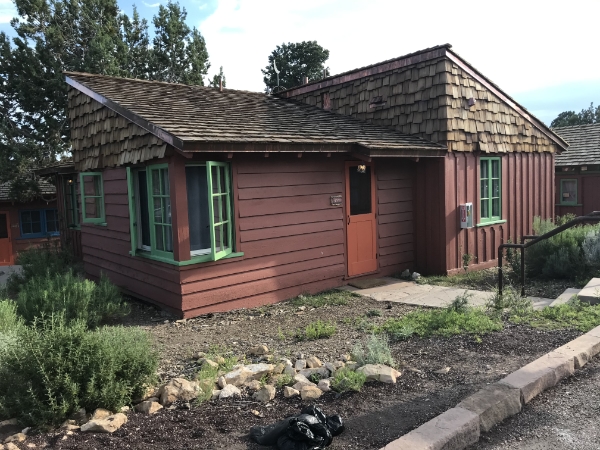 It's in a cluster of about a dozen cabins. Ours has its own bath, which apparently makes us royalty. Well, among the Bright Angel folk; real royalty stays at El Tovar up the road. When I booked this trip, there were rooms available at El Tovar, but none had windows overlooking the Canyon. I opted for the cabin. Also, it's not air-conditioned, but does have a ceiling fan.
Soon we were back out at the rim.
See that last view? Look at this map.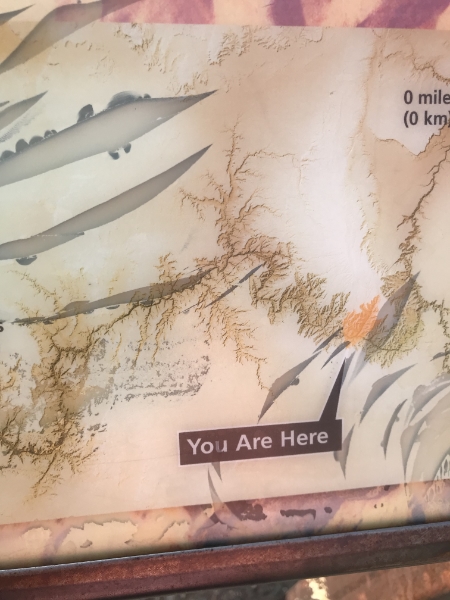 See the little orange blob, where You Are? That's the area of the Canyon you are seeing. THAT'S HOW BIG THIS PLACE IS, KENNETH.
For dinner we opted for snacks/drinks at the cocktail bar at Bright Angel. (That's a Pomegranate Manhattan, which was more like a Cosmopolitan than not. A bit sweet.)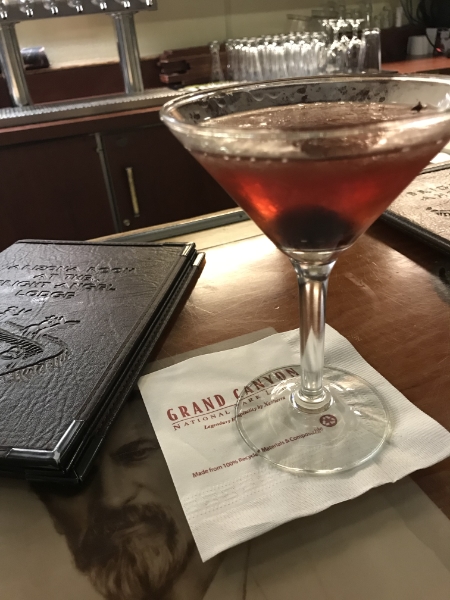 Then back out for a walk.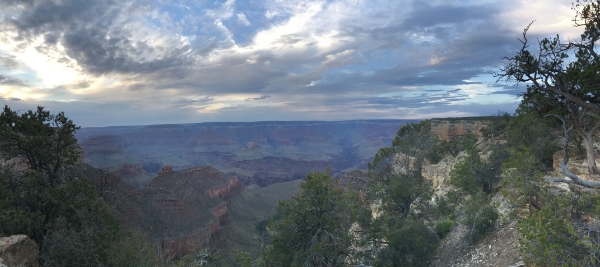 This is the centennial of the park, and the Park Service has done some improvements since we were here two years ago. One of these is the Walk Through Time, a look at the geology timeline of the canyon. Every meter or so there's a little brass ring, indicating a million years of time. At the Village end of the trail, you start over 1,800 million years ago, and eventually you end up at the geology museum at the other end. (I think maybe you're supposed to start there and work your way back in time.)
They have examples of rocks along the path, often tied to the view.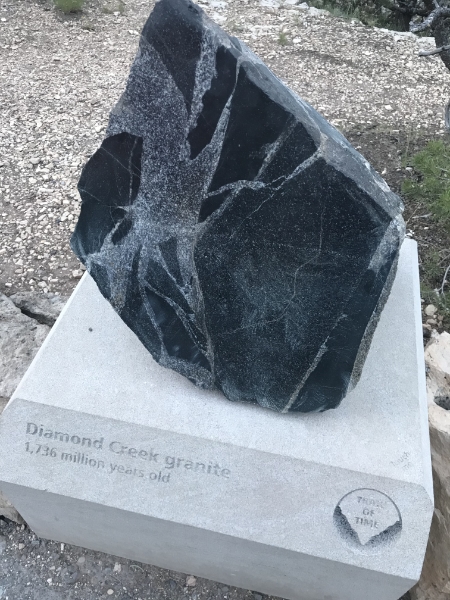 Every ten meters you get an update of how far back you've gone.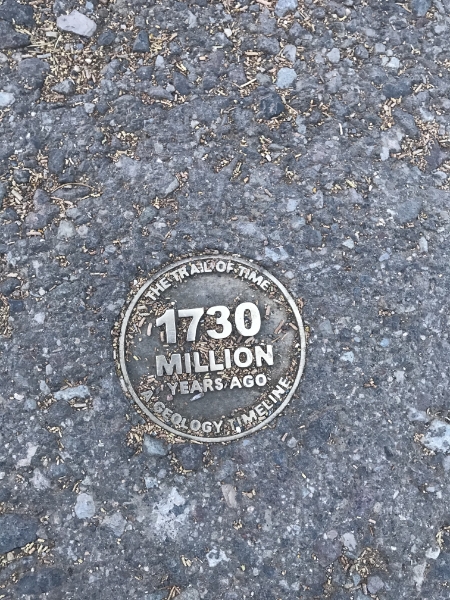 This particular rock demonstrates the immense pressure the rocks underwent during one period: that squiggly line was once a level layer of sedimentary rock.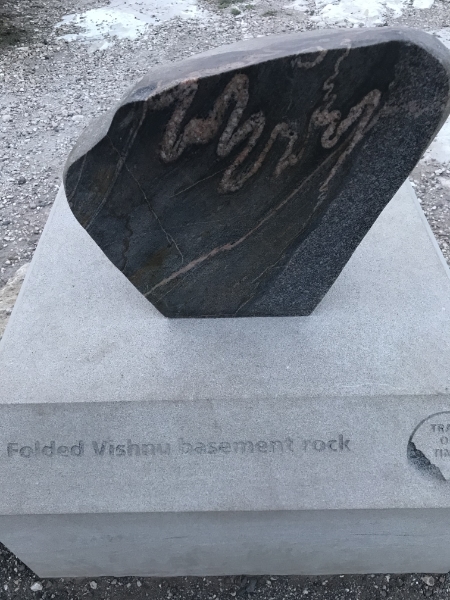 Dead tree.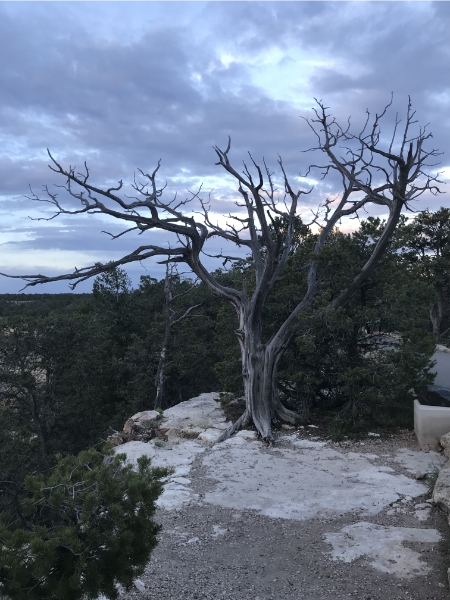 And then…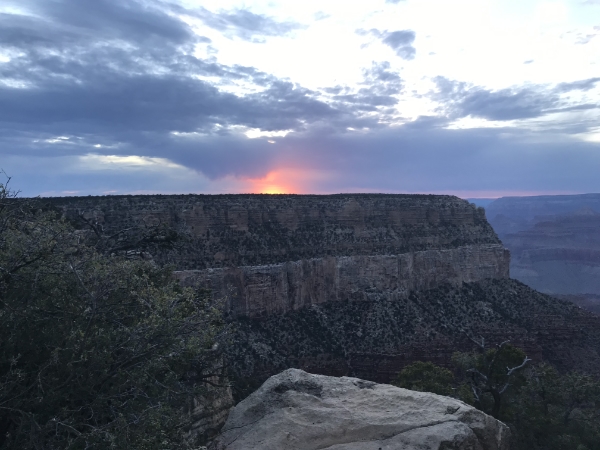 Sunset at the Canyon is one of the reasons you go there. We weren't expecting a lot of this one, since there was a cloudbank, but one of the lessons of the Canyon is that you don't just snap the photo and walk away to the next thing.
You wait.
You watch.
And then the sky turns to fire.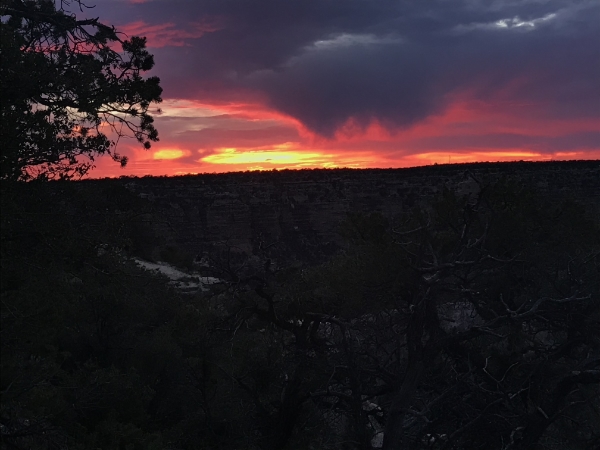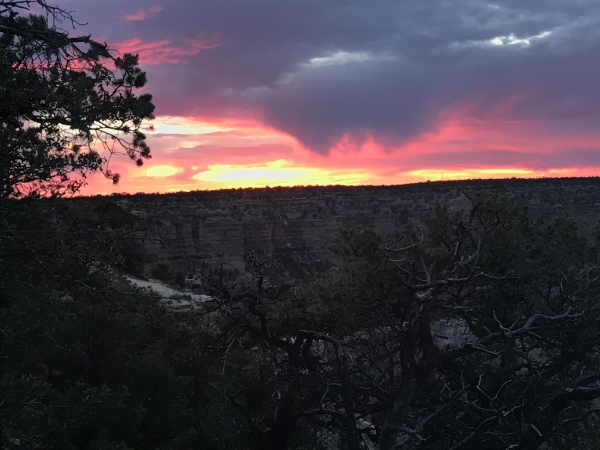 While below, the canyon begins to sink into monochromatic darkness.