This popped up on Twitter this morning: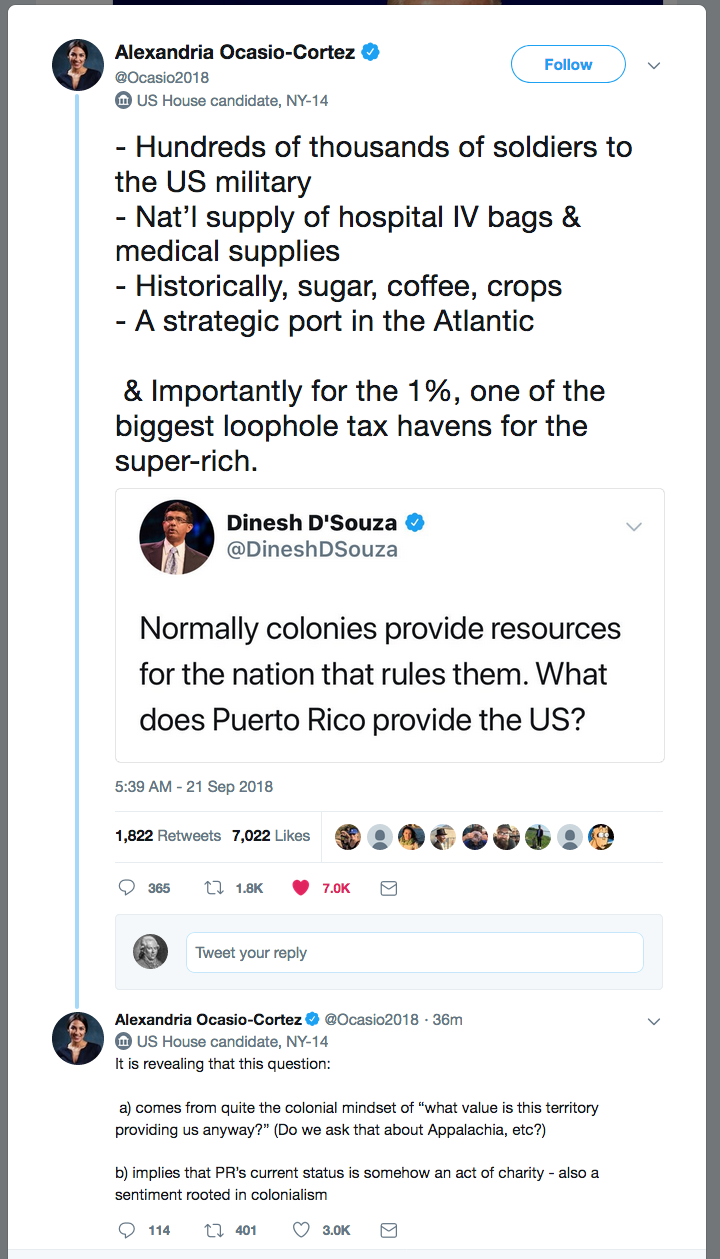 Dinesh D'Souza is of course the right-wing commentator (also convicted felon) who gets his ass handed to him regularly on Twitter by People Who Actually Know Things, but this tweet of his just kind of jumped out at me. (Ocasio-Cortez is the far left congressional candidate in New York, and she's awfully good at smacking down idiots.)
Ocasio-Cortez's second comment kind of sums up my reaction to D'Souza, but there's more to it, I think. His entire attitude — and not just in this tweet — is Ayn Randian to the max: there are weak and there are strong, and the strong are good, vital, and important. The weak are there only to serve the strong.
Look at his language: 'colony,' 'provide resources,' 'rule.'  Holy crap, people, it's unvarnished colonialism, and he means it as a good thing. Remember the TV series V? D'Souza would have sided with the aliens.
That is not a strained metaphor. He is stating pointblank that if our "colony"[1] has nothing more to provide us — and that is clearly his rhetorical presumption — we should abandon them to their fate now that we've stripped them of what we needed. They are of no benefit to us; therefore let them die and decrease the surplus population.
This is a worldview that I cannot understand.  This is a worldview that I cannot "reach out to" or "have a meaningful discussion with."
This is a worldview that I want to see exterminated.
—  —  —  —  —
[1] They are not our colony and never were. They were Spain's colony; they are our territory, and that quasi-legal status is a whole other issue.