We spent our last day mostly driving, up to Taos and back down.
The scenery was stunning, as usual: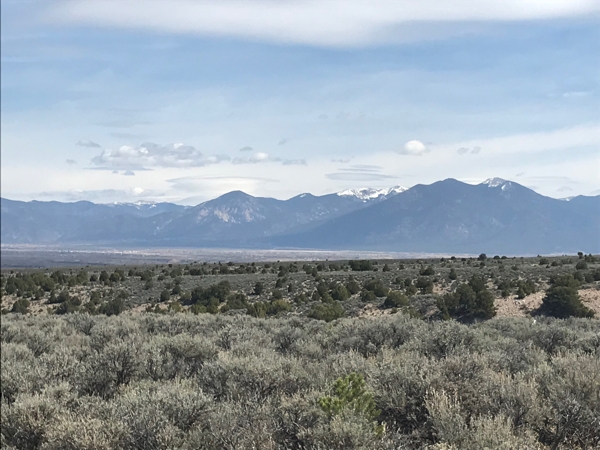 Our goal was not Taos itself; we didn't even stop in the little town. Our real goal was the Taos Pueblo.  You may imagine our surprise when the road to the Pueblo was blocked because the Pueblo was closed for ritual purposes, just as our guidebook had assured us it would be. We paused for lunch and then drove on to the Rio Grande Gorge.
Oh my.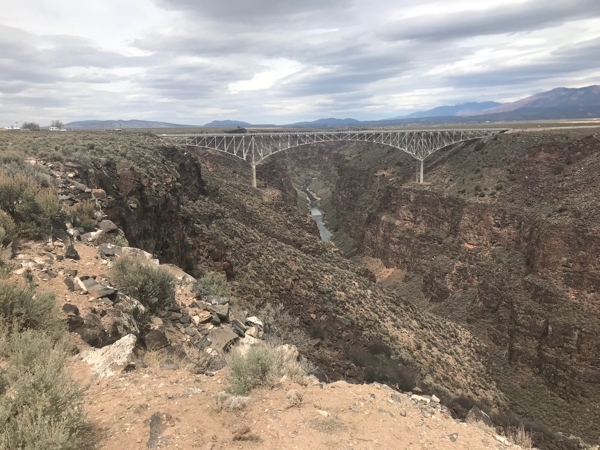 A geologic rift gave the river the chance to gouge its own gorge, and it has done so with gusto.  According to a visitors center back on the highway to Taos, if the gorge were not self-filling with erosion it would be three miles deep at this point.
Yes, you can walk across the bridge. There are little balconies halfway across on which you can stand and take photographs.  I made it out halfway to the halfway point, then retreated. Heights are not my thing.
And these were heights: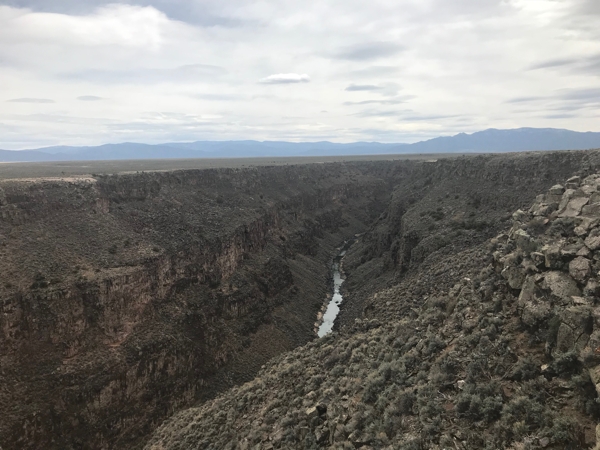 You could hike along the gorge, which we did for a while.  Those whose sense of geological stability are different than mine kept walking up to the edge and looking over. I on the other hand explored a different kind of geological stability, on the other side of the trail: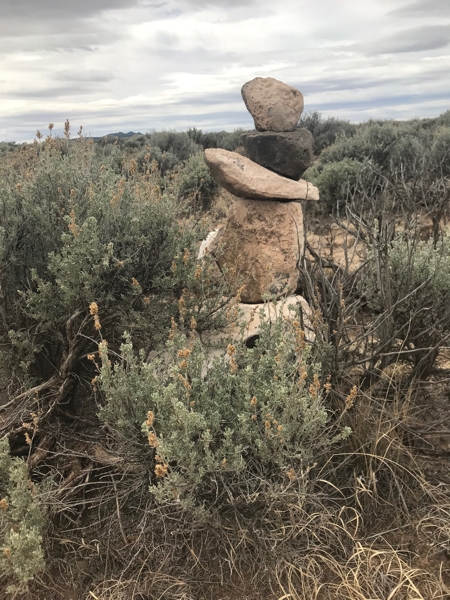 We were on a schedule of sorts, so I kept an eye on the time and distance to our next stop, the Ojo Caliente hot spring spa. My phone had said it was only 30 minutes away, so imagine my astonishment when the car announced it would take 50 minutes.  I pulled over and double-checked with the phone.
The phone said, "Turn left right here at this tiny road where you've stopped." The car said, and I quote, "You are entering an area without navigation information. Please obey all traffic laws." I turned left and we headed across country; the phone simply cut off the giant loop of the highway.
The hot springs spa is a nice little place. After I win the lottery and am flying to Santa Fe on a regular basis, we will often book a night or two up there: hot springs, massages, quality restaurant.  What's not to like?
We had 50 minutes reserved in a private pool, and it was glorious. The water was in fact hot, and the afternoon breezes were chill, and for the first time in a while I had no tension anywhere in my body.
Finally we had to get dressed and head back to Santa Fe.
Sidebar: a couple of years ago I got an email from this guy, a writer in Brooklyn, claiming that he was researching a book on procrastination and could he interview me about the Lichtenbergian Society?  Sure, I said, and he called, and he was cool so I invited him to stop by the labyrinth if he were ever in the Atlanta area and meet some of the Lichtenbergians. He booked a flight, and so Andrew Santella came to Newnan, GA, to talk to a bunch of men about how procrastination is key to creativity.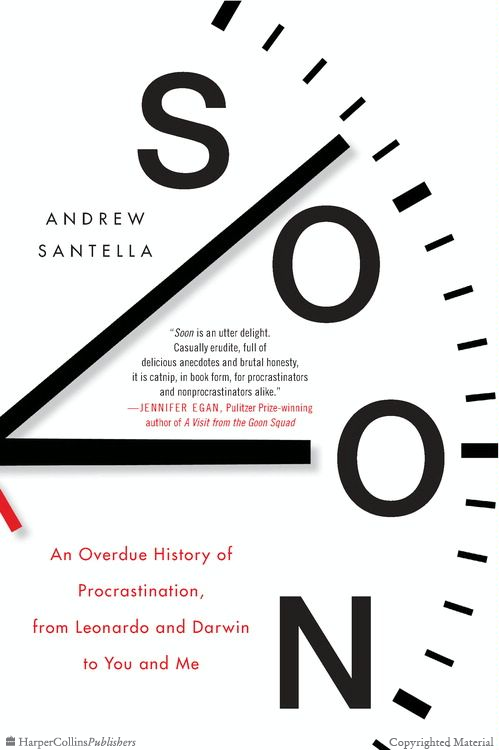 Last month, Andrew's SOON was published.  Yes, we all know that Lichtenbergianism: procrastination as a creative strategy was published first (last October), but Andrew is a real writer and has like an agent and a publisher and has been on NPR and done book tours, so I think we can give him the win on this one. Plus, his book is a smartly written exploration of procrastination itself; mine is a guide to citizen artists on how to become more productively creative through structured procrastination.  His is a very good book.
Anyway, when he found out we were headed to Santa Fe, he told me that his in-laws live there and if we had the time, to look them up.  We did so, and our last event on our trip was meeting John and Gail for drinks at the Agoyo Lounge. They are totally delightful and we had a great time.  Alas, none of us thought to take a picture documenting the event.
John and Gail left, and we decided just to order something to eat there. We were not disappointed: the food was very good there, much better than at Santacafé the night before, and we asked the server if the chef would come out so we could tell him so.  He did, and he was pleased and bashful and just adorable.  I also advised him to order rye for the bar so his bartender could make a proper Manhattan.
As a sidenote, it was flabbergasting that in every bar we went into, they were out of something.  I can see how you might be out of your special infused bourbon — but why? — but how the heck can you be out of mezcal, or port, or draft beer? It was a mystery only partly explained by Santa Fe's remoteness.  I mean, the crab is flown in fresh every day — surely Galveston could slip a bottle of port or two in there as well?
Be that as it may, we went back to the condo, packed, slept, got up at 5:00 am, drove back down to Albuquerque, and flew home. Did you know that if you are a TSA PreCheck person you are not guaranteed PreCheck? That apparently it's, in the words of the TSA agent I had to encounter, "random" as to whether it appears on your boarding pass? I'm pretty sure someone made a mistake here, and it's not going to be me.
Later this week, after all my shipments come in, I'll do the swag post. Tomorrow, maybe, the pro-tips post.