Bright and early Friday morning, we were loaded onto a bus and taken to Prague.
This trip was an extension of the cruise itself.  Some people start their cruise with a three-day extension; we ended it.  It's still managed by Viking River Cruise, albeit without the meals.  You still have included tours and you can still opt for extra tours, but except for breakfast at the hotel you have to feed yourself.  It's one way to start easing back into real life if by real life you mean dining out at really good restaurants.
The Czech Republic is a member of the European Union and participates in the Schengen Area agreement (no border checks) but not in the Eurozone.  In other words, you don't have to show your papers to get in, but your euros don't work and you have to start doing math in your head again.  For the record, the exchange rate while we were there was 23.9 korunas to the dollar, so that a 100CZK bill was about $4.  An easy estimate, therefore, was to knock two zeros off the price and multiply by 4: a restaurant bill of 729CZK was actually about $28.
I do not have a picture of the border when we passed it, with its languishing Iron Curtain checkpoints.  I wish I did, because planted squarely where you would have been interrogated by unsmiling Commie guards was a KFC, which has made great inroads in the eastern bloc.
Instead, here's where we stopped a couple of miles down the road: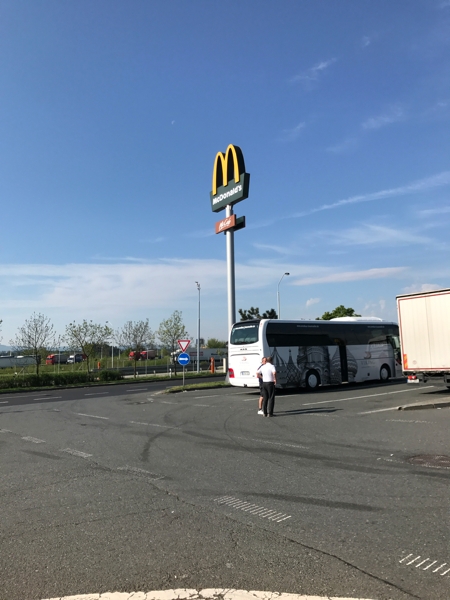 I've said for 40 years that if we were serious about toppling Castro, just make nice with him and send in McDonald's to take over the country.
We arrived at the Prague Hilton (not to be confused with the Hilton Old Town) before lunch.  Our bags were stowed for us, a VRC guide took us to Republic Square and gave us a few pointers for lunch and how to get back to the hotel, and left us to our own devices.
Prague is a gorgeous city, actually prettier I think than Vienna.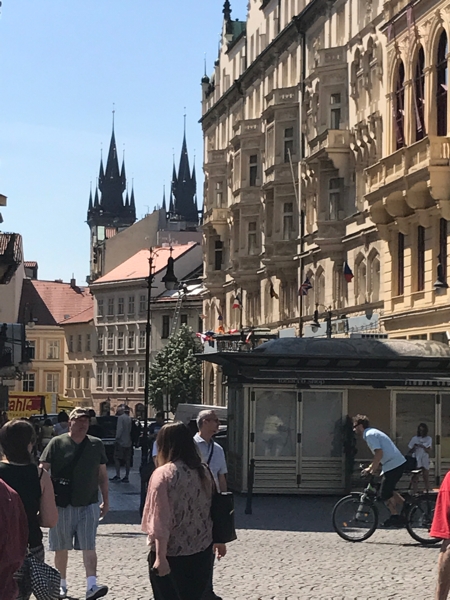 I don't know why I don't have any photos of most of this day other than I was exhausted, not having slept well for the last two nights of the cruise.  We ate lunch at the Kolkovna Café, where the meal for the two of us, plus two drinks each, came to the aforementioned $28.  Prague is not only lovely, it is affordable.
I did take a photo of this: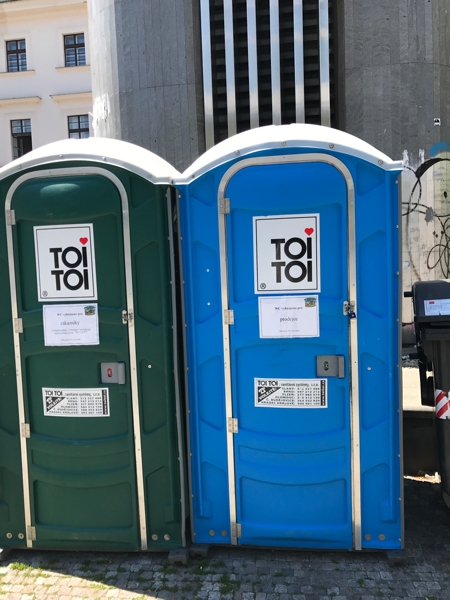 Why?  Because in the opera world, "Toi toi toi" is what one says rather than "Break a leg," and I have several friends who would find this hysterical.
Anyway, we browsed around the crafts market there in the square before staggering back to the hotel and napping.  Napping is an important part of your tour.  DO NOT SKIP THE NAPPING!
For Christmas, my lovely first wife gave me a book which chronicled the rise of the craft cocktail culture in the 90s and 00s.  It was mostly 400 pages of name-dropping, but one thing I retained from it was that Prague—weirdly enough—had some world-class bars.  I was determined to hit at least one of them; I had a list prepared from my online research. So AFTER MY NAP I went down to the concierge to ask for advice.
The phrase "craft cocktail" stymied them.  They hemmed and hawed, recommended two bars on the list in a way that suggested to me they were going by the names and not by experience or reputation, and finally—in what I thought was a pretty defensive tone—suggested I try their swank bar, Cloud 9 Sky Bar & Lounge, up on the roof.  I smiled politely.
Then it occurred to me that while the concierge was ignorant of Prague's cocktail scene, the bartenders at Cloud 9 would know exactly whom to recommend.  So at precisely 6:00 I hit the elevator to the 9th floor.
I wish I had taken photos: ultra-cool design, white marble, LED lighting, gentle EDM piped through the sound system, and a long long hall overlooking Prague… I thought I might be lost, actually.  Then I turned the corner and there was the bar, all black and white and gleaming purple.  I parked at the bar, ordered a funky gin & tonic (with star anise and cinnamon sticks as garnish), and plopped down my list in front of Filip.
"That one," he said without hesitation.  AnonymouS Bar.
Hold that thought.
I was joined by the others, we went out to the terrace overlooking the Moldau River, and had a nice relaxing evening with good drinks, fabulous french fries, and a tasty cheese plate.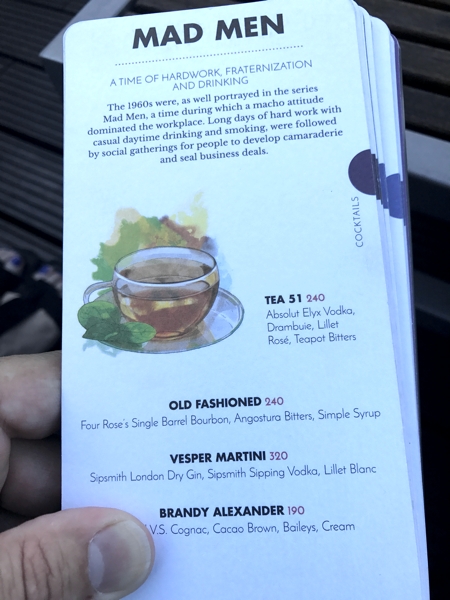 —————
The next morning, we boarded a bus and were taken up to Prague Castle, which once again is a whole complex of buildings overlooking the Moldau.
Our tour guide had been rather sheep dog-ish in getting us onto the bus and on the road, and a good thing too: there's a security checkpoint to enter the area, and while we stood in line for maybe 20 minutes to get in, those who began arriving after us stood in line for probably over an hour.
Here's a fun thing: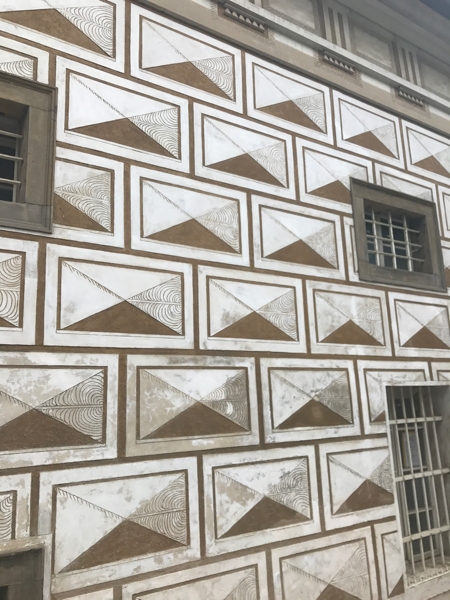 This is one of the first buildings in the complex, Renaissance, decorated using the sfgraffito technique: you paint the wall brown, overpaint it with white, then scratch through to the brown.  In this case it's a real cheap way to look like you had the money to build your house out of stonework: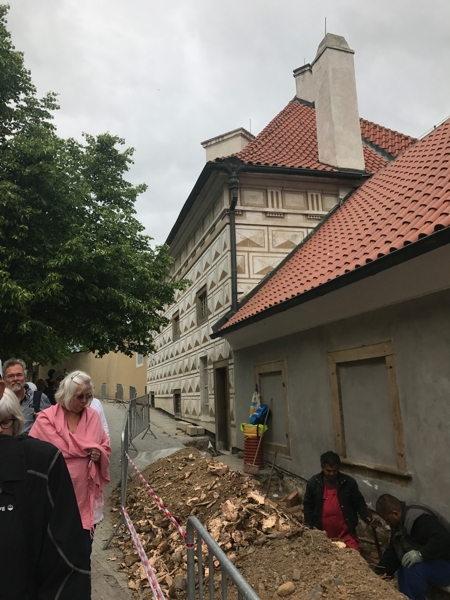 The highpoint was St. Vitus Cathedral, the only real Gothic church we went into on the trip.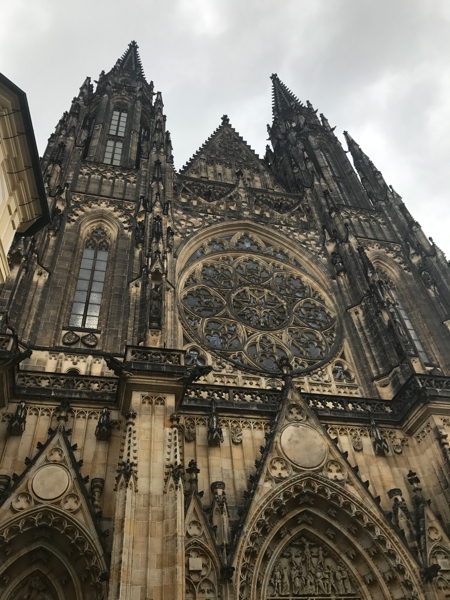 The church was started in 1344 but was not finished until 1929.  They had gotten the choir and transept built when war interrupted the process for good in the 15th century.  It was not until the 19th century that word resumed on the nave; for 400 years they had a temporary wall where the nave should have been.  (You can see the same sort of thing at St. John the Divine in NYC, only their wall is where the transept will be.)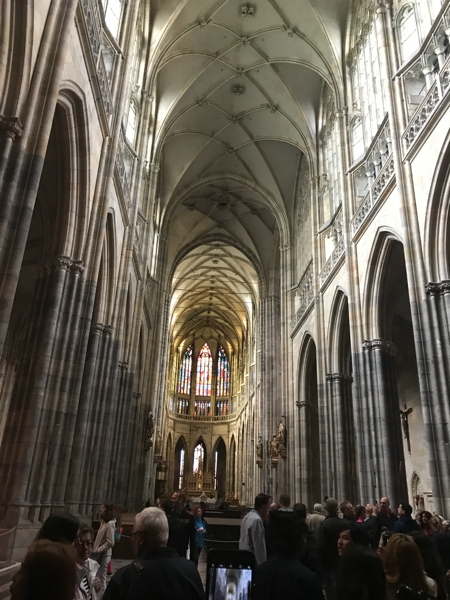 All the stained glass windows, therefore, are 20th century creations.  Here's one by Alphonse Mucha: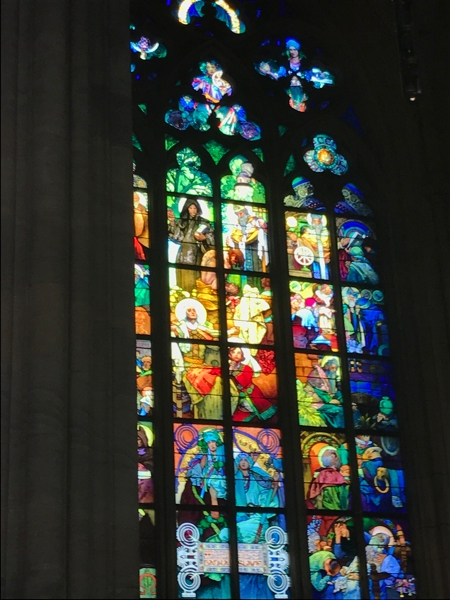 Back down to the city, where we were shown other architectural things, walked across the Charles Bridge (supercrowded with tourists walking across the Charles Bridge), and then were released for the rest of the day.  We strolled.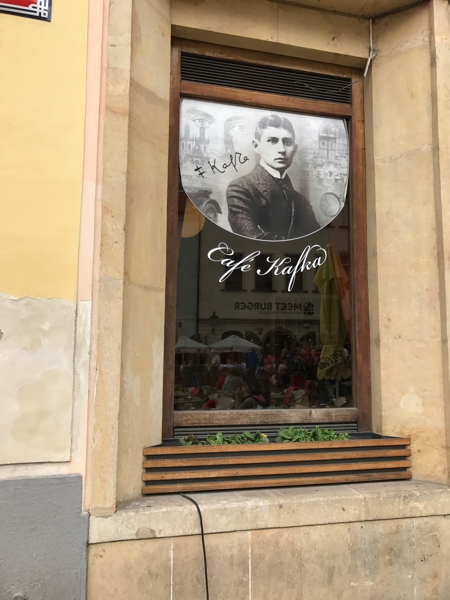 Lots o' Kafka.  I refrained from making cockroach jokes, and so should you.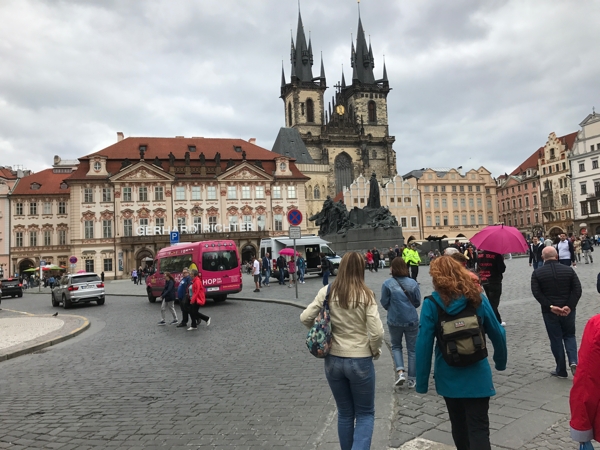 The Old Square.
Prague's intact 18th-century look attracts filmmakers, of course.  It usually stands in for Vienna in movies like Amadeus.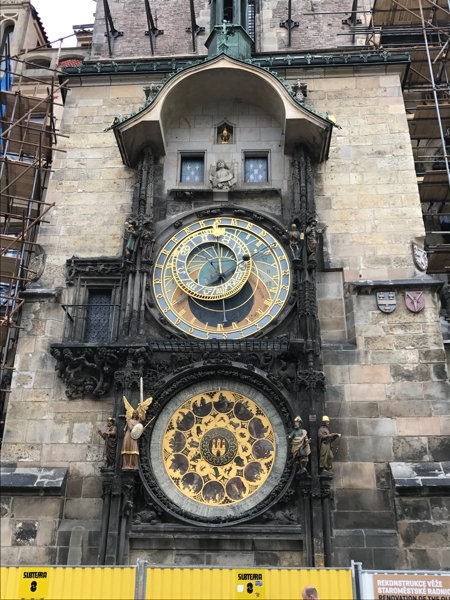 The famous astronomical clock on the city hall.  Pre-Copernican, of course.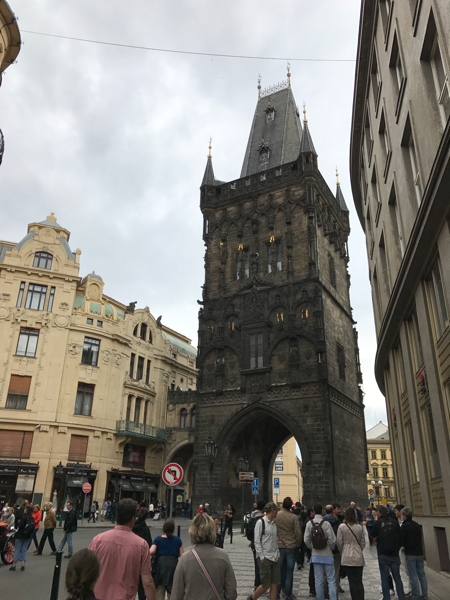 For when you absolutely have to connect your Beaux-Arts hotel to the Medieval tower.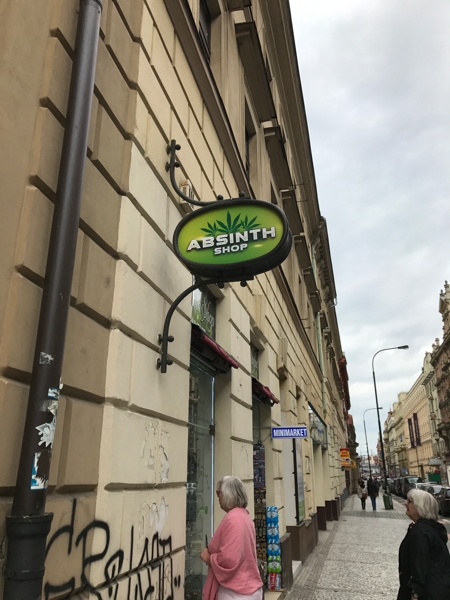 Well, we had to stop in, didn't we?  I did buy some absinthe, but not the enhanced kind.  For one thing, customs/felonies/etc.  For another (as I have determined through dogged research), the cannabis-infused liquors available everywhere in Prague are a bit of a scam.  While cannabis has been decriminalized in the Czech Republic, it's still illegal to buy or sell and the cannabis absinthe has no pyschoactive ingredients.  It just tastes like weed, which not even I can imagine being useful (or desirable) in a cocktail.
Finally, waiting in the lobby that evening before heading out, I noticed this fine establishment in our luxury hotel: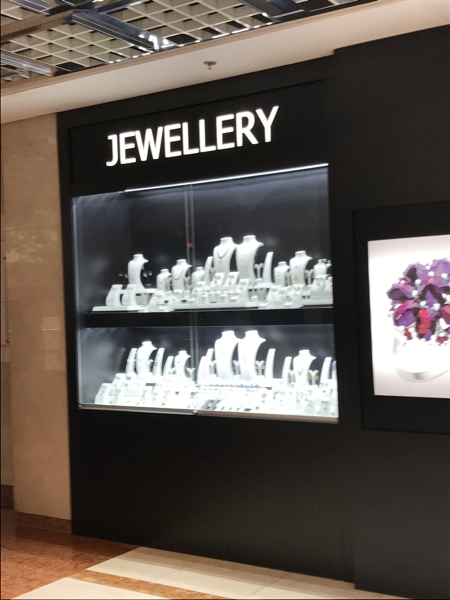 The English she is hard, no?
And where were we heading out to?  AnonymouS Bar.