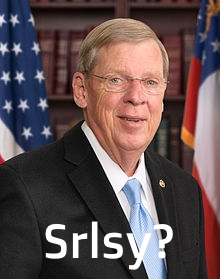 I know that our Congress is so technologically illiterate that they have no way of responding meaningfully to the millions of emails they get, especially these days when the whole planet knows them to be craven wankers more concerned with preserving their party's dominance than the republic, but seriously, Sen. Isakson?
As you know, I have been emailing my elected congresscritters some very simple questions, almost none of which they have answered directly. This past week, I was astonished to see five emails from Sen. Johnny Isakson.
Prepare to be amazed.
Two of them said this:
Thank you for contacting my office regarding federal policy. I appreciate your thoughts and the opportunity to respond.
As a member of the United States Senate, I am pleased to see constituents, such as you, taking the time to share your thoughts and concerns about the federal government and its policies. Your letter will be helpful to me as the Senate considers legislation dealing with the issues facing our great nation.
Thank you again for contacting me, and I hope you will not hesitate to call on me in the future if I can be of assistance to you.
Three of them said this:
Thank you for contacting me about President Trump. I appreciate hearing from you and am grateful for the opportunity to respond.
I believe the American people elected President Trump because they want change in Washington. They want us to rein in federal spending and reduce our national debt so we do not mortgage our children's future. Voters also sent the message that they need relief from excessive government regulation. We must promote a level playing field and institute commonsense, pro-job growth solutions.
I also recognize that our country is very divided at this time. I hope that President Trump and leaders in Congress will make it a priority to find areas of common ground where we can work together to help all Americans regardless of their race, sex, religion, or where they live. I am ready to work with the president and my colleagues on both sides of the aisle to get the best results for Georgia and the country.
Thank you again for contacting me.
I think the only thing worse than not getting an answer at all from your elected officials is to receive a string of emails that say literally nothing more than, "We got your email."  There is absolutely no indication that either he or his staff have actually registered what my specific concern is.  I mean, I have sent the man fifteen questions.  To which five of those are these even an non-answer?
Somehow this is not that "let's put aside our partisan bickering" bullfuppery I have heard so much about from these putzes.