Okay.  Can we talk?
A couple of months ago I was in a liquor store frequented by my Eldest Son1 and came across a bottle of Feni.
Feni, as the label on the bottle has it, is "an exotic spirit 3x distilled from cashew apples and native to Goa, India.  Feni has a rich mysterious taste with fruity flavors of pineapple, citrus, and cashew apple.  Since the 1700s Feni has been popular in Indian cuulture. Feni is to Goa, India, just as Scotch is to Scotland and tequila is to Mexico."
Well, I mean to say, wot?
Misreading the bottle entirely, I was intrigued by the idea of a "cashew liquor" and thought how much fun it would be to get in on it before all those trendy bartenders featured in liquor.com emails.
Oh my.  The rich, mysterious taste of cashew apples, i.e., the fleshy part of the tree-spawn from which dangles the oh-so-tasty nut, is apparently an acquired cultural taste.  It's pretty nasty, and I say this as a man who bravely assayed Hog Master liqueur.2
But I persevere.  This evening I decided it was time to face my fears and create something drinkable from this stuff.  The official website was of no help at all—it was rife with recipes involving sweet-and-sour mix and/or Sour Apple schnapps and/or Sprite.  I am not making this up.
So I breathed in the nose of the stuff, took a tiny3 swig, and came up with this:
A Feni cocktail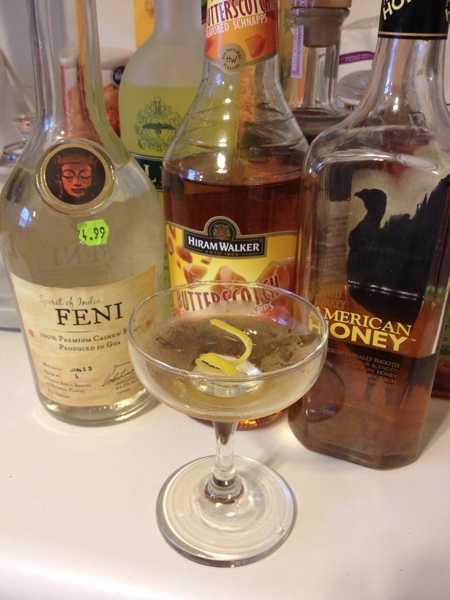 .75 oz Feni
.75 oz Butterscotch schnapps
.75 oz honey whiskey
Stir with ice, strain, garnish with lemon.
That's the best that I could do.  It's drinkable, but if I were you I'd make it with 1/2 oz portions instead.
Equal portions of limoncello and Feni are passable, if you like limoncello.
—————
1 He is my only son, and hence my eldest.
2 Which I gave to my Eldest Son, who then pranked all of his friends with it.
3 tiny