Yes, I know—but I've been busy.  I spent five weeks in Columbus, GA, as a guest artist at the Springer Opera House in a very lovely production of Born Yesterday, playing the drunken lawyer Ed Devery with as much professionalism as I could scrape together.  The struggle was real, and that's not the kind of thing I document in public.1  My fellow cast members were boffo, and I think in the end I acquitted myself well.
Sure, I could have blogged about my continuing work on A Christmas Carol—I have made it to the "Finale" and will have it finished by the middle of June—but that's dull blogging.
I could have blogged about the continuing outrages on the rightward flank of American politics, but Wonkette does that so much funnierly than I do.
Oh well—apologies all round.
So I'm back, and for my first post I'm blogging about a new cocktail, as is my wont.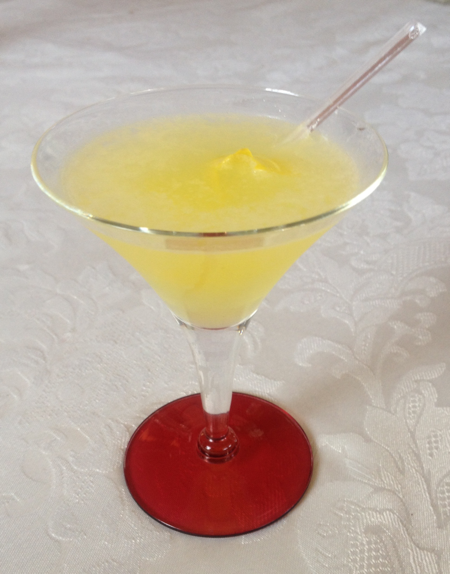 This is the Molly 22.A, concocted for a dinner party honoring the graduation and 22nd birthday of young Molly Honea, who is now the proud possessor of two useless degrees from the University of Georgia.  She has always demanded requested that I create a cocktail for special occasions, and by "special occasions" she means any get-together that she's attending.
She likes gin—and we must applaud her perspicacity for acquiring such sophisticated taste in the mere one year she has been drinking alcohol—and citrus, so I started there.  It was fruitful research.
MOLLY 22.A
1.5 oz gin
1 oz yellow Chartreuse
.5 oz lemon juice
1 dash lemon bitters
optional: .5 tsp grenadine (the real kind); a few drops kava extract
Throw the gin, Chartreuse, lemon juice, and bitters into the shaker.  Shake with ice, strain.
If you have real grenadine, drop that into the glass and let it sink to the bottom.  If you're a dirty freaking hippie and have kava extract lying around, it's fun to add that to the mix before you shake it.
Now the fun part:
MOLLY 22.B
Use vodka instead of gin.  It's a smoother drink, needless to say, without the interest of gin.
MOLLY 22.A.1
Use green Chartreuse instead of yellow.  It's less sweet and to my taste more layered.
So there you go.  I do have a series of topics I'll be blogging about, so you can dust off your link to the blog now.
—————
1 To be clear, I have no problem documenting my struggles and failures, as longtime readers of this blog surely know.  However, I never want my struggles to appear to reflect poorly on others—theatre is a hurly-burly process, and to an outsider it might appear that I'm placing "blame" for my own problems on others in the process.  Nothing would have been farther from the truth.