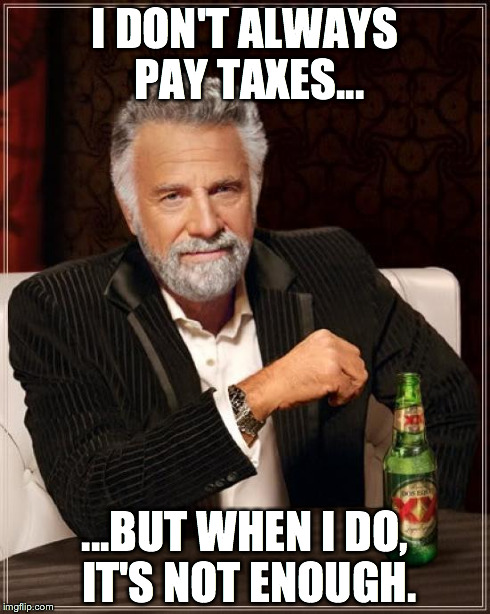 Who among us has not fantasized about winning the lottery?  It's a regular source of amusement for me, and this week's elections got me to thinking about how I could use my money for political purposes.
Let's assume I win the $250,000,000 lottery.  That's a comfortable sum.  And then let's assume that I simply put that in the bank and live off the interest.  Even at extremely low rates, I'd still have an annual income of around $5,000,000.  Still comfortable.
At our current tax rate, I'd owe about 39% of that in income taxes.  I'm not doing the actual research and/or math at this point—once I have a $5,000,000 annual income, I will pay lackeys to do all that—but if I were taxed appropriately, say at the rate under Ronald Reagan (blessings be upon him), I'd owe even more than that.
So what I would love more than anything is to taunt the average—and by "average" I mean "poorly informed rightwing idiot"—voter with a flagrant waste of my income, just because I can.  I'd make a video and release it on YouTube and wait for it to go viral.
Let's take a look:
INT: GRACIOUSLY APPOINTED LIBRARY
DALE:
Hello. My name is Dale Lyles, and I am extremely wealthy. I'm rich, and I'd like to talk to you about taxes.

You've been told that taxing people like me is bad for the economy, and you keep voting for people whose main goal is to prevent the government from taxing people like me.

So here's what I think about that.
DIFFERENT ANGLE. WE SEE "ACCOUNTANT JEFF" IN THE BACKGROUND.

DALE:
If the government were to tax my annual income at the same level they did while Ronald Reagan was President, I would owe an additional $1,000,000 in taxes. Isn't that right, Accountant Jeff?
CU: JEFF
GFX: "Not an actual accountant"
JEFF:
That's right. One million dollars.
CU: DALE
GFX: "Actual amount, though"
HE TOASTS THE VIEWER
DALE:
One million dollars.

Think of what your schools could do with a million dollars. Or how many streets could be repaved or bridges fixed. Or how much assistance could be provided to the homeless.

Instead, it's mine to keep. Thanks, voters!

And now I'd like to show you something.
NEW ANGLE: DALE REACHING FOR BOX; HE OPENS IT AND TAKES OUT THE JEWELRY.
DALE:
I took that million dollars and bought this jewelry. It's a lovely ring and earring set. One million dollars! That's pretty incredible, isn't it?
CU: HE LAYS JEWELRY ON ANVIL, INCONGRUOUSLY OUT OF PLACE
DALE:
I bought these beautiful pieces of jewelry because I can. I have an extra million dollars at my disposal, thanks to your votes. And now...
MS: HE SWINGS A SLEDGE HAMMER ONTO THE ANVIL, SMASHING THE JEWELRY INTO WORTHLESS BITS.
DALE:
There. A million dollars.
HE SITS, BRUSHING THE BITS ONTO THE FLOOR.
DALE:
A million dollars for your schools and community.

Outraged? You think I should have donated that money to the community?

Why would I do that when you've made it clear through your vote that you want me to keep it?
CU: DALE
DALE:
You want my million, start electing people who will tax me for it.
INT: LIBRARY, DALE IN EASY CHAIR WITH CHAMPAGNE; JEFF IN BG; DALE TOASTS THE VIEWER
DALE:
Till next year... cheers!
My position is unassailable in conservative terms: it's my money, and the government should have no interest in it.  Surely—surely—the average voter would begin to realize that "government" is, by extension, him.
Surely—surely—the average voter would begin to realize that even though this is a stunt (although make no mistake: I would buy a million dollar set of jewelry and smash it to flinders, a fact I would document in further videos/talk show appearances), it's the whole taxation argument in a nutshell, and while I may be a crazy rich liberal, this is exactly what the über-wealthy among us do every day.
Perhaps they might even realize that, sure, the only person I "hurt" doing this is myself, but it doesn't hurt me at all.  I'm rich.  I will always have more than that, and that would be true even if I were taxed out of that million dollars.
::sigh::
Isn't it pretty to think so?