I have probably mentioned what a rabbit hole the study of cocktails is, what with all the odd liquids and liqueurs that one accumulates.  I have the additional problem of people giving me stuff they come across that looks interesting, tasty, or just plain weird.  (Pro tip: avoid the liqueur called Hog Master.)
The latest is my "father-of-the-groom" gift from my son: Zirbenz, Stone Pine Liqueur of the Alps.  It's a product of Austria, and it tastes like a pine tree.  Not unpleasant, but certainly not an easy taste to get used to.
I happen to be awash in some fine tequilas at the moment, and so I wondered if one could use the Zirbenz in a margarita.
Spoiler alert: yes, you can, and it's yummy.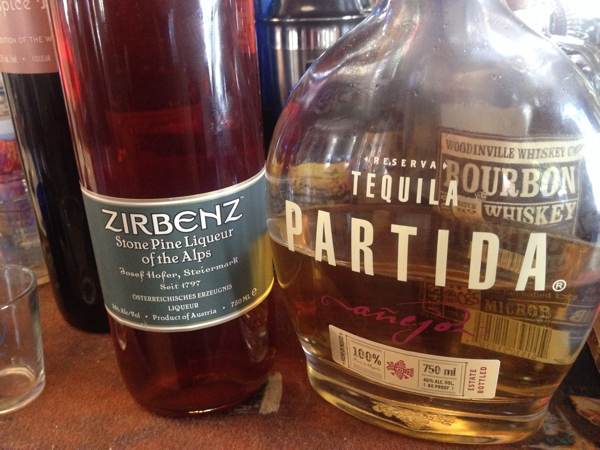 El Pino Margarita
1.5 oz tequila, in this case a very nice one indeed
1.5 oz lime juice (I usually use Rose's Sweetened Lime Juice)
.5 – 1.0 oz Zirbenz Stone Pine Liqueur
splash orange juice
Pour it all in, give it a stir.  Salt, of course, and on the rocks.
The pine gives a nice tang to the mustiness of the tequila, a complex layering of flavors.  The splash of orange juice mellows the whole thing out.