We'll give ritual a rest today.
I have found a couple of websites that appeal to my inner process nerd.  I will now share them with you.
Kanban
The first website has already had an impact on how I work: http://personalkanban.com.  (Start with their PK 101 link.)
I stumbled across Kanban as a system while using Google Drive over at West Georgia.  There are all kinds of add-on apps, and I found a Kanban one that really helped me get organized with the disparate projects/processes I was working on.
From there, I started looking for more info about Kanban and came across the Personal Kanban site.  This approach was beautiful, and the website so helpful that I bought the author's book, and that was even better.
I do have a ToDo app on my phone, and that's useful, but a to-do list is just reminders.  It's not an organizational tool.  Personal Kanban's two dicta are organizational: visualize your work, and limit your work-in-progress (WIP).  That's it.
As I began to settle into my second retirement phase, I wanted to bring the Kanban approach to my work on music, the labyrinth, daily life.  I don't have a wall to put an actual Kanban board up, so I went looking for laptop versions.  My criteria were simple and ironclad: it had to be dead easy to use, and it had to be instantaneously accessible.
As is so often the case, the simplest solution was DIY.  I found another Mac user's blog where he talked about using the Mac's multiple desktops to create a Kanban board on its own desktop.  He simply created a Kanban background and used Apple's Stickies app to create actual stickies.  I went one better, by tying the Stickies app to the specific desktop and then using an Fkey to trigger/open Stickies.  In other words, I hit F14, and the main desktop slides over to the Kanban desktop: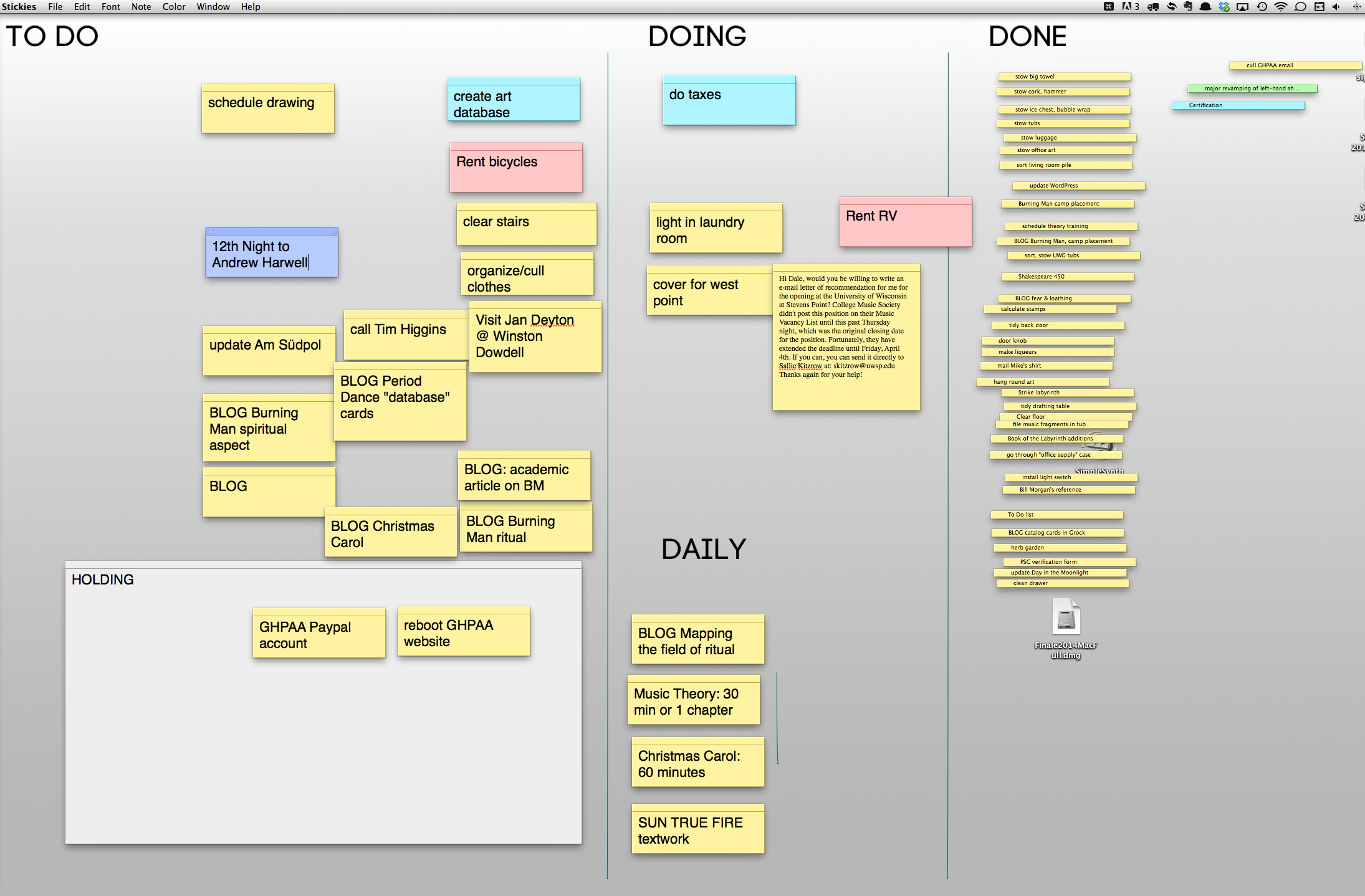 Hitting any of the other Fkey shortcuts takes me back to the regular desktop.
You see a couple of my modifications: the HOLDING and DAILY areas.  Personal Kanban calls the HOLDING area the PEN, and it's those tasks that you can't move forward on until you get information/decisions/products from someone else.
The DAILY section helps me see if I'm staying on task for longterm projects, like revamping Christmas Carol or blogging or working on the text for the SUN TRUE FIRE oratorio.
I've color-coded them just to give myself a sense of those items that are going to be larger/harder to do or that have other issues in getting them done.
I'm not going to go into details, other than to say that I already understand more about what I'm willing to work on and what I keep avoiding.  Read more at the PK website.
Dave Seah's stuff
I just found this guy today, so I'm still exploring.
Explore with me:
I'm not at all sure that I need another layer of organization, but I really like his LEARN EXPLORE BUILD SHARE mantra, and I figure having tools to go to when I'm stuck or just looking to avoid work is a good thing.  His blog is also interesting reading, laying bare his working processes in dealing with creativity and productivity.
Put your favorite process/organization sites in comments!