Today my Lovely First Wife and I went to the Slotin Folk Art Fest up in Norcross.  Some very nice stuff available up there!  I resisted several pieces, but if we had gone on Friday, I probably would have gone back today to buy some more stuff.
Here's what I did buy: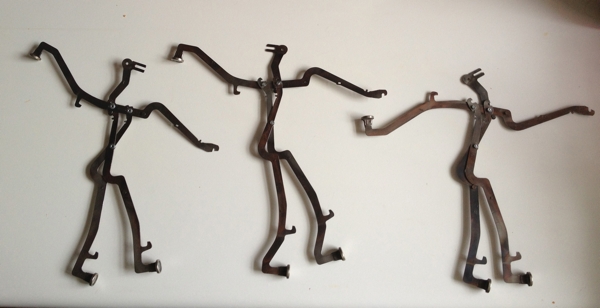 They're less than a foot tall, and at 3 for $50, such a steal!  I haven't decided where they're going yet.  I'd love to mount them in that little fern bank in the middle of the labyrinth, but I don't know if they'd be visible.  Clearly, mounted on a wall they'd be excellent.
As soon as I saw them, their atavistic energy made it impossible for me not to have them.  They hark back to some of the Lichtenbergians' founding goals, don't they?
They're made from manual typewriter keys.