I was very happy that today was clear and bright, and surprisingly warm.  I had work to do in the labyrinth.
I often feel like a bad steward at this time of year. The labyrinth is relatively grassless and muddy, and just looks abandoned. That's kind of silly to think so, because it is February after all.  All the grass is dead everywhere.  But still.  My sacred space should always look cared for.
So today I was able to get out and rake it clean of all the tiny little twigs that the squirrels in their terrible ADHD have rained down on us, then mow it—although there wasn't a lot to mow—then use the trimmer to edge the paving stones.
Behold: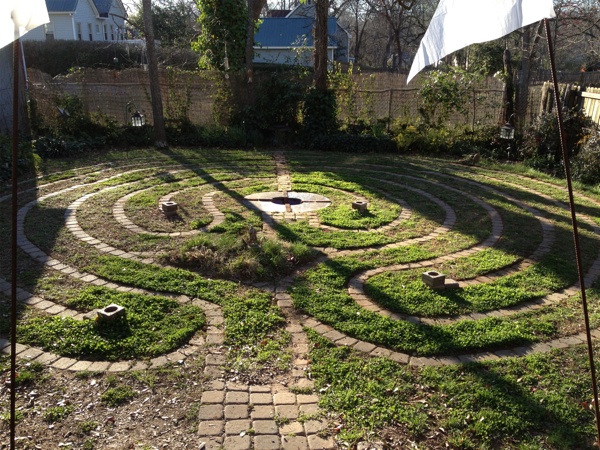 You will see that there is green there and wonder why I'm complaining.  This is the clover that I am allowing to take over.  Since the last time I posted about the labyrinth, it has grown quite a lot.  That's where the edging becomes necessary, because it will completely cover the paving stones if left to its own devices.  You can see, though, that the clover provides a nice ground cover.
A couple of weekends ago, I got out and revamped the southwest corner.  A couple of years ago I planted a variety of nandinas, and those are coming along quite nicely.  This is where I positioned the Dancing Faun, but it was all kind of hugger-mugger.  So I got in, pulled up all the ivy, laid out some brick, and moved a couple of bristle ferns that were not doing as well as they might in a nearby location.  Now our Dionysian proxy has a stage: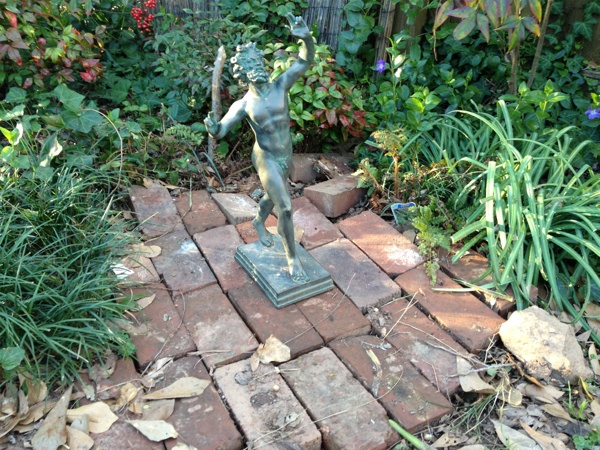 Once the ferns grow up (and I'll probably add a third one), he'll be nice and lush.  I need to find little spike/stands for votive candles so that sojourners get a good look at him from the labyrinth.  Placing them around his feet is not very effective.
My labyrinth is still a refuge for me, although I haven't been able to be out there a lot.  During the winter it's a little hard, because you have to commit to building a fire and sticking it out with the cold as long as the fire is going.  Now that we're beginning our approach to the Vernal Equinox, it will get a little easier.  Plus, I have a goal of burning all the Christmas greenery before the Equinox.