Those who have visited the labyrinth know well my chakra candles that I usually arrange along the western path: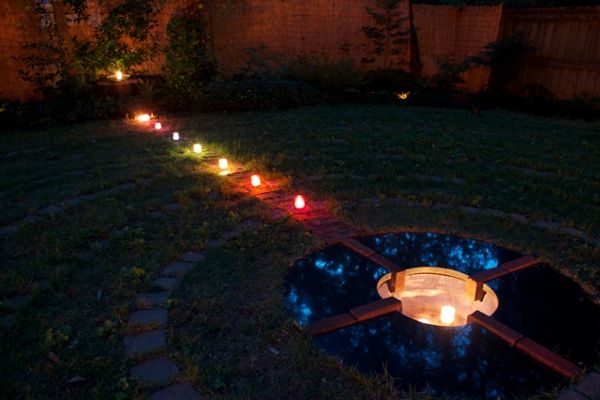 Last summer I was cleaning up after an evening of quiet and meditation and I kicked the indigo/purple one. It broke. Not to worry, I knew I had a place to order one from.
Except it turned out I had to order a dozen. Again, not a problem. I'm sure I'll find a place for the other eleven at one point or another.
However, a month or so ago I broke the red one. I decided against ordering a dozen red ones, I am trying to economize these days after all, and went rummaging around the house for a replacement. I found one of course—have you seen us decorate for Christmas?—but it was a largish round thing, not the same as the others.
This started me thinking. I decided to begin to replace all the votive holders with a random assortment of holders.
I rummaged some more and found a large square green one, actually a deeper, better green than the one I had been using.
It had seemed to me for some time that my blue votive was quite weak, looking more white than blue, so that became my next quest. This weekend, we were antiquing in Greensboro, GA, and on my way out of the largest, junkiest store, I found this: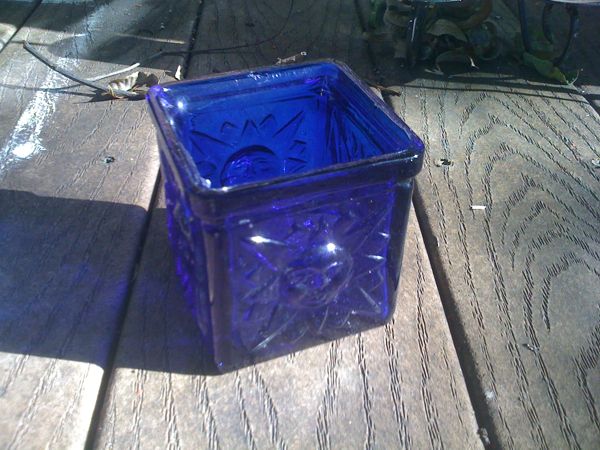 Beautiful. And at Target back into town, I found an orange one that is more traditionally shaped, but has decoration on it.
Now I'm looking for a brilliant yellow and a decisive violet/red-purple. Keep me in mind as you travel.