I have a confession. I have egregiously sinned against my resolution not to buy anything. Well, in my defense, it is June, not that I have been perfect since January, far from it, actually, but this purchase today was the kind of egregious purchase I had sworn off.
Actually, the table easel-cum-paint-storage was also of the egregious variety. And all the boards to paint on, which I haven't done yet because I've successfully distracted myself with the 24 hour challenge, those fit into that category as well.
But the downloads of Zoe Keating's two albums I will defend against all comers, and those who have heard this sorceress, entheogenically or otherwise, will agree.
Anyway. Today we all went to the Renaissance Festival and you can snicker if you like. The people-watching alone was worth it. Should have worn the Utilikilt for real. There was a booth of handmade journals, and we all know how much a sucker I am for journals. I'm not at all convinced these were handmade by the guy in the booth. He had a workstation all set up, and there was leather strewn about and all the tools of the trade, but I am not such a fool as to believe these were the real deal, especially since I have bought identical journals in other locales.
So, I bought this: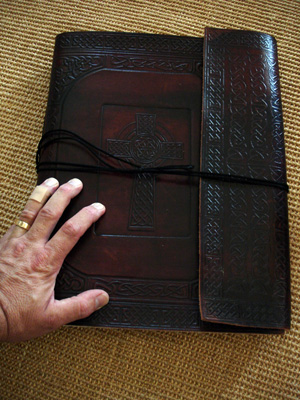 I included my hand in the photo for scale, because my first photo of it gave no sense of how large it is.
And it's large. It's a whacking great thing. Its size was part of its allure for me, as was the paper, which seemed less fibrous than the other, slightly less expensive journal I was also drawn to. I like writing in these with my fountain pen(s), but the really fibrous paper just sucks up the ink and bleeds.
I also liked this one because the paper is bound in a single signature rather than the four or five in the other one.
You can imagine what this cost. It's not something I'm proud of, spending that kind of money on something so completely unnecessary in my life at this point, but something told me to buy it. I have learned not to ignore these somethings.
What will I do with it? I don't know. I already have a journal in which I recorded all my Marriage of Figaro stuff, and another for the continuing adventures of William Blake's Inn (which I need to drag out and update). I even had one that I started for generic creative endeavors, which does not include a lot.
Those are all of the handmade variety. I have a couple of commercial ones for other purposes, including one for all my Lacuna Group work and one for my sketches for the Epic Licthenbergian Portrait.
But this one? I don't really know.
That's a lie. I know what I want to do with it. I want to write a book called A Perfect Life. I want to document my life in general and in particular. I have a phenomenal life, one that by any standard on this planet is enviable. I am materially comfortable, my environment is great, my family and friends are wonderful, and I am intellectually and creatively alive. That's what I want to do. Whether I will cast it as a journal, or essay, or fiction, I don't know.
But I do feel compelled to start telling what it was like to live in this time, in this place.
Hey, if nothing else, it will serve as a distraction to both my music and my art.