As you can imagine, the day after a fire closes your Fine Arts building is a bit busy. As fate would have it, damage was minimal and confined to Sawyer Theatre, so after gathering all the fine arts majors in the Old Gym, we were able to release everyone to go their regular classroom, give or take the dance majors.
Power was still off in Whitehead Auditorium, so no orchestra, so no "Milky Way." That was disappointing.
I did get to go over "Dance" again with the bassists and marimbist. I think they're going to do quite well, and the piece should be well-received. The boys certainly seem to like it.
This afternoon the vocal majors had their Rotunda concert, in which they fill the dome of West Hall Rotunda with glorious a capella music. Tonight the art exhibit opened, and it's quite good. I'll try to go back tomorrow and take some photos to share.
In the meantime, here are some Hogwarts photos from last Saturday: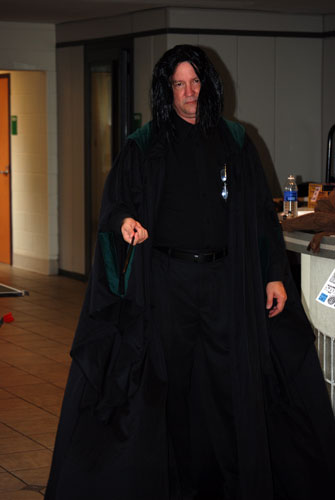 First of all, me in complete Snape drag.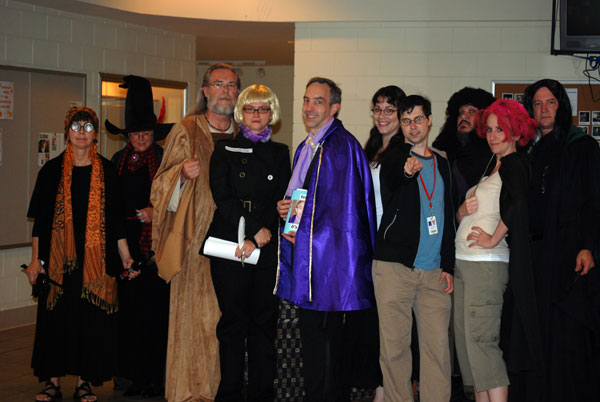 The whole Hogwarts gang [Sibyl Trelawney, Minerva McGonagall, Albus Dumbledore, Rita Skeeter, Gilderoy Lockhart, Moaning Myrtle, Harry Potter, Rubeus Hagrid, Nymphadora "Don't Call Me That!" Tonks, and Severus Snape.]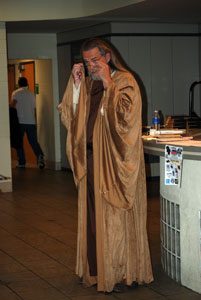 Albus Dumbledore in the lobby of our dorm.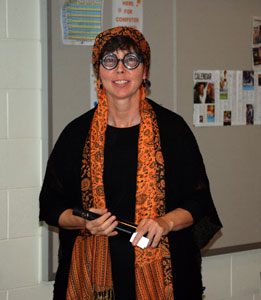 Sibyl Trelawney. Notice the sherry bottle. She wandered around the dining hall, incanting predictions.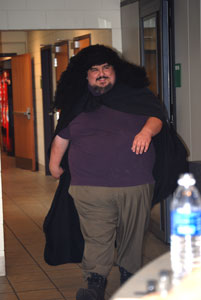 Hagrid arrives in the lobby. Dave has neither read the books nor seen the movies.
Myrtle and Rita pose at the head table.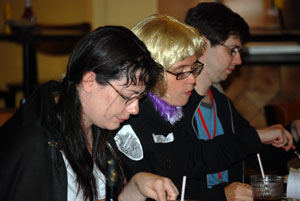 Myrtle, Rita, and Harry chow down while flashes are going off all around them. Quoth Myrtle: "I could get used to being famous."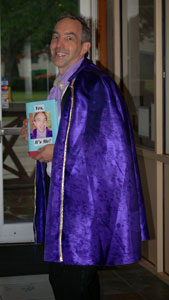 Gilderoy Lockhart, posing, as usual, with his new book, Yes, It's Me! He also handed out bookmarks and coerced students into having their photos made with him. Chris actually made most of this outfit since last summer's Hogwarts event. (Nadine, who was Mrs. Weasley last year but elected to be our photographer this year, has sworn that she will have a pink wool suit by September and be ready for Delores Umbridge next summer.)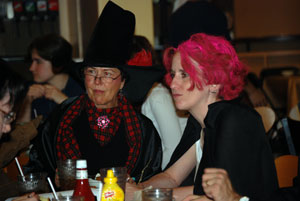 Prof. McGonagall and Tonks at the head table.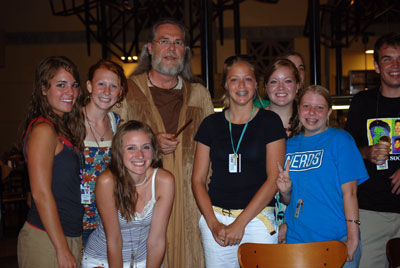 Dumbledore with some of his fans.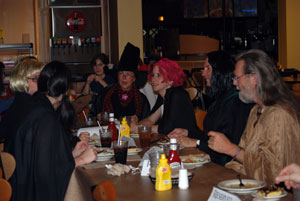 Most of the head table.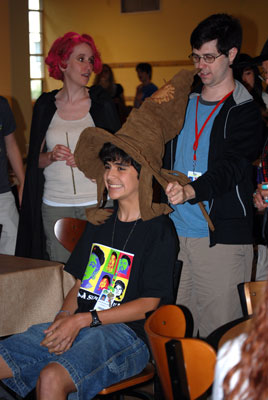 A Soc Stud gets sorted. This one was Slytherin. All the best people, you know.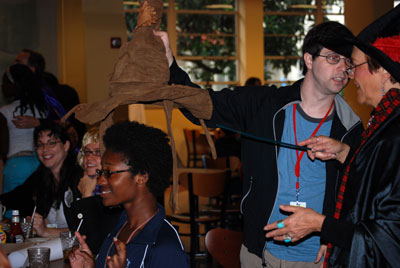 This Spanish major is one of our speakers for Convocation this Saturday. Notice her crossed fingers. Also notice, in the background, Gilderoy posing for a photo with a student.
At the Grand Ball on Sunday night, some of the kids were laughing at themselves, saying that on their MySpace page, "You Know You Belong at Nerd Camp," they needed to put "… if your teachers dress up like Harry Potter characters," followed by, "…and you think it's the coolest thing you've ever seen." They said this as they were filling out their dance cards in preparation to spending their evening dancing the waltz, foxtrot, and English country dance. Indeed.