The shower is pretty weak. But we persevere.
Ginny is off to the flea market in Hell's Kitchen. I'm off to find coffee downstairs, see if the wireless signal is stronger in the lobby, and wait for Barbara Petzen to call.
Barb Petzen was a student of mine way back in the 1980s. She hooked up with NCTC, and I taught her both AP Art History and AP English. She was probably the most brilliant student I've ever had. She was State STAR Student in 1983, and I was her STAR Teacher.
She went on to Columbia, then became a Rhodes Scholar, ending up at Harvard for her doctoral studies (women in the late Ottoman Empire). She married the online editor of the Christian Science Monitor, I was her matron of honor, and now she and Tom live in Boston with their four beautiful children.
So I really haven't seen Barb since, what, her wedding? And she hasn't changed a bit. Still the wonderful, funny, supersmart woman that we knew and loved since high school. We caught up on her insane siblings, were saddened to hear of her mother's death last fall (also Barbara, aka Bobbie, and a fabulous broad), and figured out exactly what it is she does. (She's newly hired to an educational outreach position of an Islamic studies group in DC; Tom is now in charge of blogs for NPR.)
And here's Barb: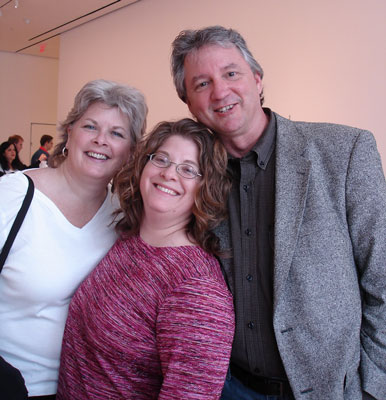 We all headed off to the Museum of Modern Art. MOMA has built a new wing since we were there last, and it's a beaut. Of course, it's the collection that counts, and it's like walking through your art history textbook to tour the museum.
So many beautiful works, so many glorious successive approximations. I hesitated to take photos, well, because I have all these works in books one way or the other. But there was one: "Broadway Boogie-Woogie" by Piet Mondrian. I use this painting in my information skills training for the third grade. One of the teams is challenged to answer the question, "What does the painting "Broadway Boogie-Woogie" by Piet Mondrian look like?"
And so: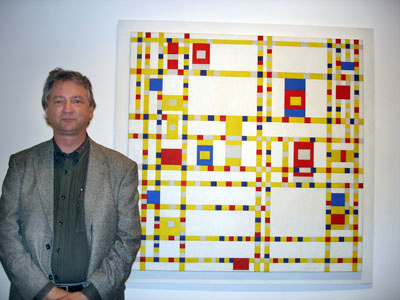 We sent Barb off to catch her bus back to Boston, then we walked back to the hotel, scouting restaurants along the way. We stopped for a quick restorative at Louis' Café on 53rd, then had time for a quick rest before heading out for supper. We ended up at Thalia, a nice André's style restaurant on 8th Avenue. Good food, great décor.
Spring Awakening was right around the corner at the O'Neill Theatre, one of those wonderful older theatres in which all the seats are great. The set is bare brick, plastered with frames and ladders and lights and photos. Very pomo.
I liked the show, a fact which is fairly bizarre, since the score is totally alternative rock. But the harmonies are very interesting, very complex, and the orchestration is unexpected, with a string quartet in addition to the guitars and basses.
I was also sucked in by the teen-angst theme, which is also unexpected. I empathized for those poor children, and yes, they're ridiculous, but we forget at our peril that it's not ridiculous for them.
The main thing that we all find to admire is the staging. Very stripped down, direct to audience, great use of rock concert energy and movement. This is where the disjoint between the 19th century costumes and 21st century attitudes works best for me: the gracefulness and innocence of what the children are wearing contrasted with the sexual anxieties and alternative rock sounds of today make for a compelling mise-en-scene.