I went for one of my walks this morning and sketched out an interesting B theme for the symphony, so I was going to post about that, I really was, but then the Times splashed all over its SundayStyles section a story I absolutely could not not write about. Kevin, cover your ears.
Above the fold is a huge photograph of a happy family, a happy toddler being tickled by the handsome dad, the warm-looking mother smiling into the camera on the sidelines. The headline is The Trouble When Jane Becomes Jack, and the feature is about transgendered men: women who surgically become men. The dad, Shane, used to be Sharon.
Here they are: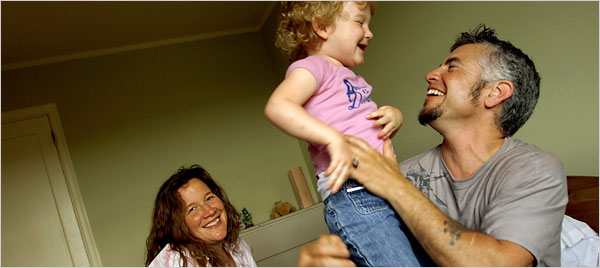 There's more: Natasha, the mom, and Sharon were lesbian lovers, but split up after the surgery for what would appear to be obvious reasons. ("Natasha" is not her real name because she wants to protect "family members who are unaware of her lifestyle." Well. Clearly her family members are trapped deep in the Midwest and will never live to see her splashed in full color across the entire front page of the New York Times' Styles section.) Having become pregnant together before the surgery, they now share custody of their child.
And there's even more, which I'll get to in a moment.
Now I'm pretty unflappable: the basic outlines of this story may make me raise my eyebrows and purse my lips, but I'm neither shocked nor appalled by it. (Kevin, I told you to cover your ears.) These two adults, whatever the weirdness of their story arc, are clearly committed to their child in a positive way that should make every separated couple envious.
What does make my head spin, however, are all the ins and outs (!) of the complete article. Let me see if I can get them all straight(!).
First of all, Shane is not alone, of course. Statistics are fuzzy, but there are thousands of transgendered men, many of whom were lesbians before. The article deals with some of the sexual-political ramifications of this fact, and that's what has me flapped. Apparently, many lesbians are shocked, shocked!, that some women are choosing to become men. The blogs and message boards exploded after a character on "The L Word" announced her decision to become a man last season, infuriating politically committed lesbians nationwide.
Of course, men decide to become women on a much more regular basis, and as far as I can tell there is no furor in the gay community over transgendered women. But there is on the other side: at the Michigan Womyn's Music Festival, for example, only "women born as women and living as women" are invited. No men, born or made, are allowed.
I guess I'm naive, but I'm fairly appalled by this. I've spent my life encouraging tolerance for, if not outright amusement by, all of our fellow creatures, and any kind of exclusionary tactics by any group bother me hugely, especially if they're on the part of those who would normally be excluded by Pat Robertson and his ilk.
It's almost as if the participants of the Womyn's Music Festival want to be ghettoized. They appear to revel in their excluded status, to want to cling to it even as everyone else is ready to shrug their shoulders and not give a good damn over their sexual orientation. You used to be a lesbian, but now you're a husband? Get outta here! No music festival for you! Reminds me of Pat Robertson and his ilk, actually, claiming victimhood even when no one is particularly paying attention to them.
Is this what we're coming to, a nation of balkanized victimhoods, everyone sitting around their lonely campfires at night, wondering what the other tribes are plotting? Bah!, I say, and again, I say, Bah! I haven't come this far in my life to endorse anyone's victimhood other than to defend them and help them overcome it and step into the mainstream. But I digress.
The old switcheroo didn't work out for Shane and Natasha, they split five months after their child was born, but there is another couple in the article for whom it did. Jacob used to be Susie, but his longterm partner Diane didn't ditch him. Instead, they got married. I will now pause and listen for the sound of Pat Robertson's head assploding.
But there's more: here's a picture of Shane.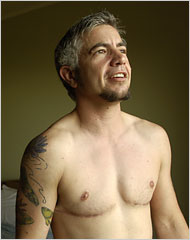 He's pretty hot. I wish I looked that butch. However, there's always a catch: "Bottom surgery" is over $100,000 and risky to boot, so Shane's only had the "top surgery."
I will leave you now to consider how very, very uncomplicated your own life is.