And so we decamped to Phoenix yesterday for a week of sightseeing and spiritual exploration.  (We in this case meaning my lovely first wife plus our friends Marc and MF.1)
Our first stop was Flagstaff, which has never popped up on any list of places I wanted to go, but it's quite a cool little city.  The  downtown is like a smaller version of Asheville: hip, self-aware, revitalized and renovated, with shopping evenly divided between outdoorsy types, New Age Woo types, and artsy types.  How odd that these days I'm all three.
We're staying at the Hotel Monte Vista, which began the downtown revitalization with its renovation.  The rooms are not luxurious, but they're nice enough, and the bar/lounge is phenomenal—great craft cocktails and great staff (and luscious coffee in the mornings).
We walked downtown and saw several lovely things that we did not buy, a windchime in particular that had a different and lovely sound.  The store was filled with beautiful soundmaking items: bowls and gongs and tubes and even a sound therapy chair in which you sat and thrilled to the deep thrums of the strings on the outside of it.
They are not open today, alas.  If we come back through Flagstaff next Saturday, I'm stopping and making a few purchases.
Dinner was at the incredible Brix, up the hill from the hotel.  We trudged up there to check it out and were there when it opened exactly at 5:00—and they weren't sure they could fit us in!  Fortunately they could, and it was divine: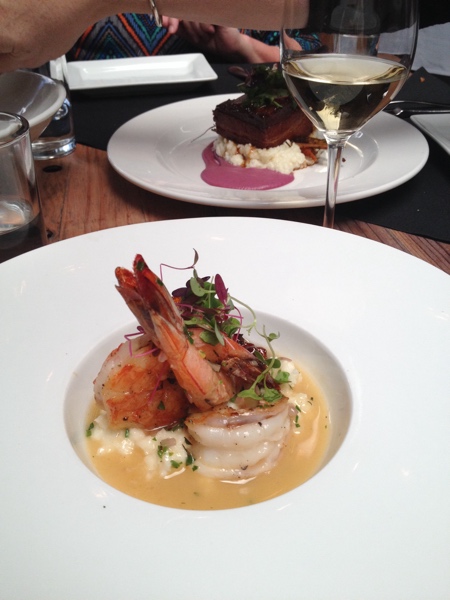 In the foreground, shrimp and grits to die for, and behind that, pork belly on polenta with a beet sauce.  From beginning to end, an exceptional experience.
This morning, we'll hit the weekend art fair here, then on to the Grand Canyon.
We are travelling in style—when Marc got to the rental counter, the best option was an enormous Chevy Tahoe Suburban LT, the most important attribute of which is not its capaciousness but the multiple outlets for charging phones and iPads.
—————
1 This is the usual disclaimer that we did too leave someone guarding the house so it's no use planning to break in and steal all the muslin walls for the 3 Old Men labyrinth.  Some of us worry about that.