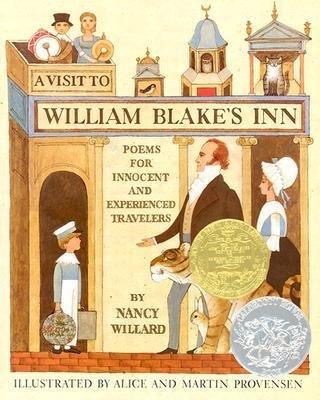 A Visit to William Blake's Inn is a book of children's poetry by Nancy Willard, and it won the Newbery Award in 1982. Ms. Willard has kindly given me permission to set it to music, and it is currently available for production. Contact me if you're interested.
Here are the scores and mp3 files for William Blake's Inn. All scores are piano/vocal scores (PDF)
William Blake's Inn
a piece for chorus, soloists, orchestra, puppets, dancers, and everyone
We visit the Inn and through the course of a day or so meet the odd and magical inhabitants, including William Blake himself.
If you're here to look over the piece and don't want to plow through the whole 45 minutes, I would suggest downloading the scores for #10 and #16. Listen to those two.  You'll be back for the rest of it.