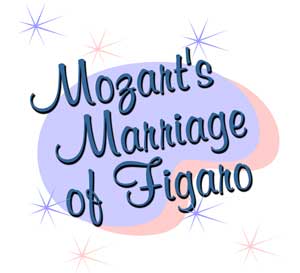 The reviews are in...
...and they are glowing! Comments like "I've seen this in London, in Paris, and in New York, and this is by far the funniest production ever!" and "You are looking at getting this show to Broadway, aren't you?" and "This is completely glorious!" are just some of the comments we heard every night.
You don't think you "like opera"? Neither did many in our audiences—but they left raving about "the best thing NCTC has ever done" and "a total delight from beginning to end" and "pants-pissingly funny"!
This delightful musical work is one of the most perfect comedies of all time, and in Dale Lyles' new translation, it comes alive for a modern audience. Can Figaro and Susanna get their wedding day off the ground? The lecherous Count, aided and abetted by a host of wacky characters, is doing his best to stop it, and it will take every twist of the plot to make things turn out right by the end of the day!
October 25-November 29, 2002; directed by Dale Lyles
Act I
| | |
| --- | --- |
| | "Three feet..." sings Figaro [Scott Beckom] as he measures the storage room the Count has given him and Susanna for their new bedroom. |
"On the dawning of the morning of our wedding..."

Susanna [Rachel Gordon] and Figaro sing of the joys they expect to find together.
| | |
| --- | --- |
| | Figaro sings of outwitting the Count in "Dance with me, Count." |
| | |
| --- | --- |
| Bartolo [Craig Humphrey] finds that his plans to make sure Figaro "goes down for good" are exciting to his former housekeeper Marcellina [Allison Upshaw Spragin]. | |
| | |
| --- | --- |
| | Susanna and Marcellina almost come to blows over Figaro: Marcellina loaned him a thousand crowns, and if he can't repay her, he has to marry her. |
| | |
| --- | --- |
| The pageboy Cherubino [Andrew Kreeger] discusses his predicament with Susanna: the Count found him hiding in her cousin Barbarina's room and wants to exile him. | |
| | |
| --- | --- |
| | "I don't know if I going or coming," Cherubino bemoans his general adolescent state of horniness. |
| | |
| --- | --- |
| "What the hell now?" In a series of events too complicated to go into here, the Count [Dale Lyles] once again finds Cherubino hiding, as Susanna and music teacher Basilio [Matthew Bailey, Jr.] look on. | |
| | |
| --- | --- |
| | Led by Figaro, a chorus of servants praises the Count's many virtues. |
| | |
| --- | --- |
| Since the Count has sent Figaro to join his regiment in Seville, Figaro sends him off with "Pack your bags, hit the road": Susanna helps him to "grow a mustache, prove your daring." | |
| | |
| --- | --- |
| | Swordplay during the final aria of Act I. |
| | |
| --- | --- |
| Our heroes close out Act I. | |
Go to Act II • Act III • Act IV • A family portrait